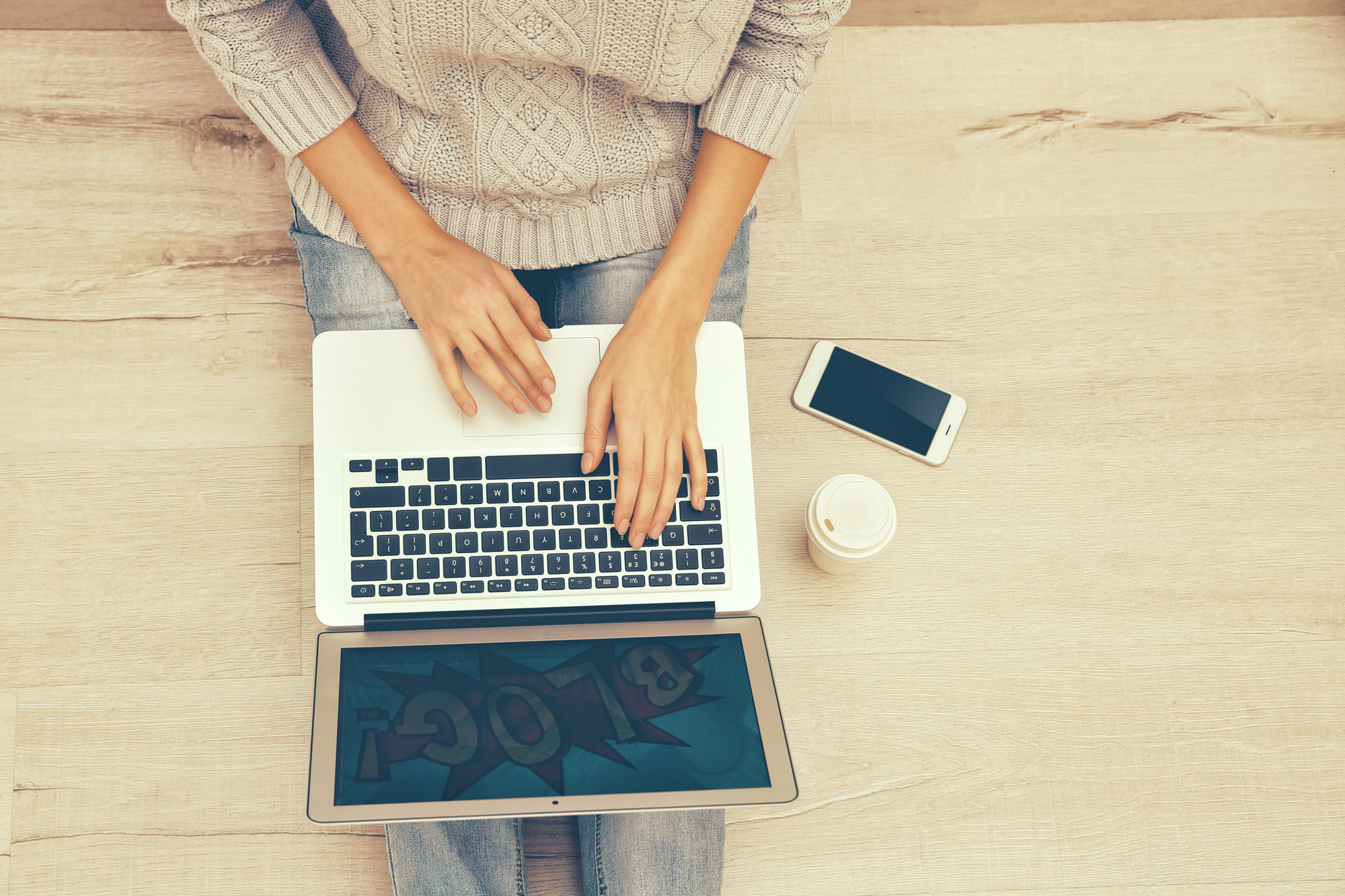 With over 150 million blogs and counting, the internet has loads of people writing about every subject. While it's easy to make $100 or a less from your blog every month, you'll need to take hold of a particular niche to make a living off of blogging. That's why starting an e-commerce blog is a great idea to make money from your blog.
As many small businesses and companies are attempting to make money with e-commerce, there is no clear bible on how to make e-commerce work. Depending on the market, the product, and the preferred sales audience, lots of e-commerce sites could use help marketing and building their platform.
That's where you come in.
People will start turning to your e-commerce blog in droves. Follow these steps to make sure that you're making money, while you're helping other people make money.
Step 1: Find Your Platform
As the media theory adage goes, "The medium is the message". In this case, whichever blog platform you choose to use will determine what your site looks like and how easily people can find it.
While WordPress is one of the most widely used platforms, it can also be very complicated. If you know a little bit about how to code, you can customize your WordPress blog to look any way you want. If code is another language for you, you could risk your blog looking generic and stale, like every other WordPress site.
If you want other alternatives, you should try Blogger or Tumblr.
Blogger is a great alternative to WordPress. It has a lot of similar customizations and potential. You'll find that Blogger undergirds a lot of your favorite blogs.
Tumblr is a great way to build your audience and get valuable SEO rankings. Because it's partially a social network, you can connect to a network of other writers. This will help you to know which topics have been covered endlessly and which topics could use a little bit more spotlight.
If you like a more professional, editorial style, think about using Medium. Medium has a lot of the aspects of Tumblr but is more widely used by professional writers of all stripes. If you really want to make money, connect your blog to your Medium, Tumblr, and Twitter accounts to get more eyes on each page.
Step 2: Who's Your Host?
Do you want to host your site yourself or do you want the platform to host it for you? This is a serious consideration because it determines how much of a loss you're starting off with.
All of the platforms mentioned above offer free blogging capabilities to any writer. This is great but it also means there are a lot of blogs with one or two entries and the bar is set pretty low.
One of the worst parts is that you don't get your own domain name. Using a free blogging platform means your e-commerce blog will be titled "blogname.wordpress.com", "yourblog.tumblr.com", etc. It's not a very enticing look.
The other issue with free hosts is that there are limits to how much you can monetize your blog. They don't let you upload unlimited amounts of content and you only get access to free themes.
Worst of all is that you don't own the blog. If WordPress decides to trash a server with your blog on it, there goes your content.
Your best bet is to search for a cheap hosting site that offers you cheap domain names so you can get the name you want and make your blog easy to remember.
Step 3: Designing your Blog
This is the most fun part of creating an e-commerce blog. Once you've chosen a name for your blog, start thinking about how you want your banner to look. Every great site has a great title with a memorable logo.
If you're not a graphic designer by trade, see if you have any friends who will give you a deal on a simple logo. You're going to want something that you can put on business cards, letterhead, and that looks great on every page.
If you struggle to find a graphic designer, try Craigslist or Fiverr to find someone who can design a simple logo for you at a reasonable price. Your logo needs to speak for you without being too hokey. A great graphic designer will know that.
Once you've got a logo, you can start trying to figure out what your color scheme will be. You should maintain a nice balance of white space. Modern web design entails lots of white space with simple fonts allowing text to remain the readable focus of every page.
For a good idea of how to balance high-quality images with white space, check out Marketplace Valet.
More than anything, make sure that your blog reflects your personality. Show your blog to friends and family and ask for their honest opinions. If you have a solid theme, people will love visiting your website.
Step 4: Advertising
When you start using ads, make sure that they are unintrusive, don't blink, and don't play sound. This will make you look unprofessional and make your site traffic suffer.
Think about alternative ways to generate ad income. Backlinks and guest blogging are great ways to increase traffic and add new revenue.
When you write about something new, make sure you put it on your social media profiles for your e-commerce blog. Use the targeting metrics in their ad applications to ensure that your blog reaches the right people in the geographic area you want.
People know bad advertising when they see it, so try to only work with advertisers who you believe in. When you write about someone's project, be fair-minded. Hitting them over the head with how great a product is will leave a bad taste in their mouth.
Try writing for some other blogs first to get a feel for the style of advertising within articles that generates reliable traffic and solid profits.
Start Your E-Commerce Blog Today
Now that you know what to do, start your e-commerce blog today. Look at other sites that you admire and try to follow some of the steps they've taken. Don't copy them outright but tip your hat by backlinking and reaching out to authors.
If you're still struggling to figure out how to start making money with your e-commerce blog, reach out to us today for more information.