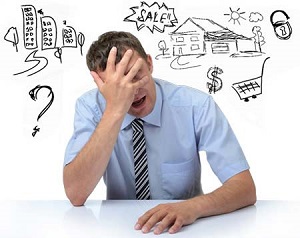 Stress is very bad for our health, when we get stressed our body releases all kinds of hormones like adrenaline and cortisol. When stressed we can get moody, agitated, irritable, lonely, isolated, depressed, forgetful, eat less or more, sleep less or more, abuse alcohol, smoke more, we can even suffer physical symptoms like dizziness, aches and pains.
Prolonged stress is bad for us humans and it should be avoided wherever possible but sometimes we just cannot avoid stress, in this post we will look at some of the most stressful things most of us will encounter just to put a roof over our heads.
Buying a Home
Buying a property is extremely stressful, many people find it to be the most stressful time in their life. Property buyers have to worry about the chain collapsing, their seller changing their mind or not being able to get mortgage. A lot of the stress associated with buying a property can be reduced by finding a chain free property, getting a mortgage in place before making an offer and finding a good conveyancing solicitor.
Selling a Home
Selling a home is actually more stressful than buying one. When looking to move up the property ladder there is nearly always a chain involved. According to Wikipedia, "A chain, when used in reference to the process of buying or selling a house, is a sequence of linked house purchases, each of which is dependent on the preceding and succeeding purchase. The term is commonly used in the UK."
As with buying the stress of selling can be reduced by finding a good conveyancing solicitor, a chain free property to move to or renting for a bit whilst you find somewhere else to buy. A good estate agent will also help to reduce the stress of selling your home.
Moving Home
Once you have found a home to rent or buy, sold your current property, exchanged and completed contracts then collected your keys you have to move. Like with selling or buying a home the stresses of moving day can be reduced by find good professional help. A good removal company can help with packing and knowing your goods are adequately insured whilst in transit can offer piece of mind.
Divorce
Divorce is a major cause of suicide in both sexes but men usually suffer more, lose more (especially when there are children and property involved) and men are more likely to commit suicide. The stress of divorce can be reduced by finding an amicable partner in the first place, remaining amicable after you split, selling the property quickly, having your wife or husband buy you out. If it's not possible to remain amicable a good solicitor maybe required.
Affordability
This is especially true if you have a mortgage, a mortgage is a big, long-term commitment usually for 25 years or more. What's affordable today may not be affordable tomorrow, circumstances can change, you may lose your job or partner, you may have children and other unexpected commitments. It is important to plan for all eventualities and keep a good amount of cash in reserve just in case.
Make sure you can get at your emergency cash quickly, keep it in a secure bank account, don't invest it in the stock market or something stupid. Share prices can go up as well as down, you may find you lose a large chunk if you need your emergency cash in a hurry.
This post was published by Stefanos Anastasiadis. Stefanos works as an iconographer for Byzanticon and is also loves blogging in his free time on home improvement, interior design and art.