As you try to stay snug, drawing closer to the fire, you might be forgiven any idle dreams of a second home by the sea or in England's idyllic countryside just as soon as the weather improves.
The great news is that any such dream may become a reality – and if your holiday home is a static caravan, then at a price you might find surprisingly affordable.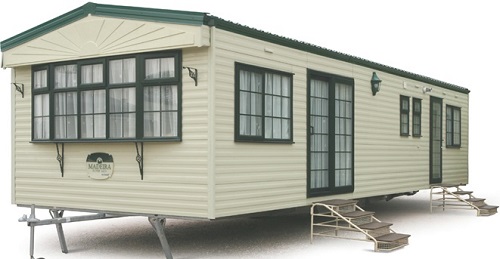 Right for you?
Although the prospect of owning a second home on a park or caravan resort of your choice may have an appeal, it has to be recognised that a static caravan may not be for everyone.
Before investing in one, therefore, you might want to take a holiday in one that you rent – you are likely to find plenty of choice – or one that might be owned by a friend or relation. The website UK Caravans 4 Hire may be able to help you find a static caravan to hire at a site of your choice.
Another potentially valuable resource is the experience gained by others. There are a number of websites offering open forums, where experienced hands and newbies swap stories and trade advice on practically every aspect of static caravanning – Go Static, for example, is such a site you might want to investigate.
Taking the plunge
If a trial run leaves you bitten by the bug, you may be ready to buy your static caravan.
Probably the major consideration is the same as when buying any kind of property and that is the simple question of location, location, location.
In the case of a making a static caravan your holiday home, however, there are two further considerations:
the location you choose is almost certain to be the location at which your caravan will stay – it is static after all – so you need to decide whether this is the place you would like to return time after time, or one that paying guests might like to visit; and
a static caravan is typically pitched on a site at a purpose-built park, where you need to consider the cost of renting the pitch, the services and amenities provided, the terms and conditions of the lease agreement;
and any times during the year when the park is closed to both residents and visitors.
New or old
One of the beauties in buying a static caravan is the sheer choice of makes and models you are likely to have, whether buying new or old.
Although they tend to hold their price very well, a preloved caravan might prove more affordable than a brand new one, of course, and you might also have the benefit of the vendor's first-hand experiences and tips on living in that particular model.
There are a number of second hand dealers, many of which maintain online listings – such as Autotrader Caravans.
Layout
When choosing your static caravan it is important to give careful thought to the way it will be used and by how many people at a time.
Floor area is important, of course, but as important as its overall size and the number of berths is the particular layout of rooms, fitted furniture and equipment – clever and innovative design might give you more usable space in a smaller caravan.
A holiday home is likely to be your second home away from home. As such, you are likely to want the kind of creature comforts to which you have grown accustomed. The way your static caravan is equipped and its capacity for accommodating still more of the items on which you depend is therefore an important consideration.
Insurance
You should note that in most cases, you do not have to accept the site owner's static caravan insurance, but are free to shop around for your own cover, which may work out more cost-effective. While the site owner may ask for proof of your insurance cover and charge a small admin fee, overall you could still save money by sourcing your own cover.
Cover for a static caravan falls into something of a niche market, for which you might want to consider the services of a specialist insurance provider – such as Cover4Caravans. They also have a useful onsite guide to buying a static caravan, including the financing of it, which may be worth a read.
Particular, non-standard insurance concerns for a static caravan, for example, are likely to include the following:
use of the caravan may be by a combination – at different times of the year – of you and your family, friends and relations and paying guests to whom you choose to let your holiday home;
given the various types of individuals likely to be living in your caravan, therefore, public liability cover is likely to be especially important – as a safeguard against claims of your negligence in the event of personal injury or the loss or damage to the property of visitors or paying guests; and
the fact that there is likely to be a certain period – of perhaps several months or more – when the park on which your caravan is pitched is closed for the season;
an empty home, of course, faces particular risks and perils, which your static caravan insurance needs to reflect.
Safety
For your own safety – and as a matter of legislation if you are planning to let your holiday home at any time – careful checks by qualified engineers need to be made of the caravan's gas and electrical installations and equipment.
Security
It is in your own interests – and typically a requirement of your insurance cover – that you take every reasonable step to minimise the risk of loss or damage to your static caravan.
Some of these steps – such as locking doors and windows whenever your home is left unattended – may be matters of common sense.
But there may be particular measures your insurer may request during those times when the caravan is left unattended and especially during any closed season at the park.
Additional precautions during these periods may include the installation of intruder alarms and motion detectors, the choice of a park or resort employing 24-hour security patrols during the closed season in particular, and the removal of items of particular value whilst your home is left vacant for the winter.
During these periods you might also be required to minimise the risk of flooding from burst pipes and fittings which have frozen by thoroughly draining down all water and heating systems.
Hopefully this has given you some food for thought on whether investing in a static caravan is right for you.