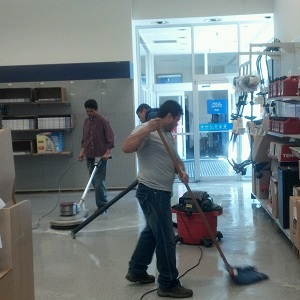 Choosing a professional office cleaning service for your business is a fairly important decision as it can affect your bottom line and your overall work environment. When considering your options you need to take into account a handful of factors.
Know Your Cleaning Needs
One of the first factors is knowing your cleaning needs. All the quotes and meetings with cleaning companies won't matter if you have no idea what your office cleaning expectations will be.
This includes letting a cleaning company know what type of services you are considering along with how often you want them to perform them. For example, you will probably be looking for the cleaning company to empty trashes and vacuum the floors. However, you also need to know if you will need dishes and the kitchen cleaned. You might also have other special services that you require them to perform.
Determining your cleaning needs and frequency can be challenging off of the top of your head. You should also discuss the cleaning services with prospective companies and get their thoughts and recommendations. Important things for them to know are the size of the building and the amount of employees that will be working in the office. This will help them to determine how many hours it will take, how many cleaning employees they will need, and how often they should service your office.
Multiple Quotes
As with any vendor you work with, it is important to get multiple quotes. Make sure that the cleaning companies come out to your office to provide you with an estimate. While they can provide you some initial ballpark numbers over the phone or email, an accurate estimate will come from an in-office visit.
With the quote, you should also see what services are offered and at what cost. This may help you determine what you would like the cleaning company to handle, as opposed to handling it internally.
Some cleaning companies will also offer a month-to-month trial period before locking you into a year contract. This trial period is a great way to assess your overall cleaning needs along with the thoroughness of the cleaning company itself.
Proof of Insurance
Finding a licensed, bonded, and insured cleaning company is important because it proves legitimacy. Companies that are uninsured or unlicensed may not be following proper business requirements.
References and Reputation
One important step prior to hiring a company is to check their references and reputation. An established cleaning company should be able to provide you with references that you can reach out to. Get in touch with these references to see how their experience has been with the cleaning company.
Even simply checking the experience of a business can help provide you with insight into where they land on the quality scale. Cleaning companies that have been in business for a long period of time obviously have an established clientele that keeps them in business.
Additionally, you can always look for third-party verification for many cleaning businesses. For example, Sonlight Cleaning Services in Texas has a link to their accredited profile on the Better Business Bureau's website. This shows you any complaints or lack there of.
Large or Small
One of the major differences you will find in cleaning companies is there size. There is not a right or wrong choice when it comes to determining if you want a large or small cleaning company for your office. It depends on your particular needs.
For example, larger companies tend to have more advanced equipment which allow them to clean your office quicker. Less time spent in your office is usually a good thing, although most cleaners perform their duties off hours. These larger companies also staff more people, meaning they can have fill-ins if one of their employees is sick. However, this usually comes at a higher price.
Smaller companies, on the other hand, usually cost less. They will have a smaller, local staff that handles the cleaning of your office. Usually a smaller, local company means more flexibility in terms of customizing your services or contract. However, this comes at the expense of less flexibility in terms of providing replacement cleaners or responding to emergencies. Smaller companies typically do not have the bandwidth to provide replacements if one of their staff is sick or if you need them to come in for an emergency.
Considering these factors and doing your due diligence in research will help you to find the cleaning company that is right for your business.
Andrew Fujii is a marketing professional with expertise in digital/web and content marketing. He is also a copywriter for multiple agencies producing copy for blogs, articles, websites, product packaging, mobile apps, and more.
https://plus.google.com/u/0/+AndrewFujii2/posts