Everyone has stuff. We buy stuff, we get stuff as gifts, but how do we know where to put all of this stuff? It's wonderful if your house or apartment is large, has a lot of closets, shelves and household storage space. But what if your home is small, even an apartment and has very little household storage capacity?
Getting organized takes thought and creativity, and is usually easier if you're willing to spend a few dollars. Staying organized is easy if you put things away after using them. But if there isn't a place to put something, you quickly build clutter and you'll start to live in disorder.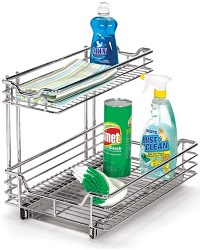 In the Kitchen
It's best to store things off kitchen counters. Keeping prep space clean is vital in the kitchen. The less clutter you have on the counters, the easier it is to keep the kitchen clean. Use tiered wire storage shelves inside of cabinets to maximize space and to make organization of cookware and dinnerware easier. Place dividers into drawers to separate and organize different types of utensils. In the pantry, use clear plastic or wire baskets to organize and store like items together.
Store cups near the refrigerator. Store pots and pans together near the stove. Store lids near or on pots and pans. Use racks that attach to the inside of the cabinet doors to maximize your space. If space allows, hang pots, pans, lids, aprons and tools from the ceiling or walls with hanging pots and pans shelving units.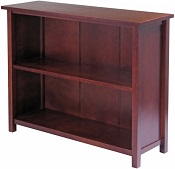 In the Living Room
Purchase furniture that provides storage capacity. Coffee tables, end-tables and entertainment centers typically come with drawers, cabinets and media storage racks. Store remote controls, CDs, DVDs, books, pens and pencils away in the drawers make cleaning easier. Use a chest or an ottoman with internal storage space to store living room items that are not in everyday use such as blankets or family games.
In the Bathroom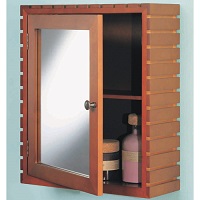 Bathroom counter tops should be kept clear of clutter to maintain cleanliness. Regularly used items such as toothpaste and daily medication should be kept within arm's reach of the sink basin. Keep daily use items in a medicine cabinet or in a vanity tray on the countertop. Items such as Q-tips, cotton balls, cosmetics and first-aid supplies can be stored in drawers or cabinets. Use baskets or bins to keep like items together and orderly. If your bathroom allows for a bathroom storage cabinet, this is a great way to add a decorative furniture piece with much needed storage.
Toilet brush and plunger are must be stored near the toilet. There are several decorative types of storage options for these tools, in porcelain, plastic and stainless steel. Some units can be affixed to a wall. Most will sit on the floor beside the toilet.
Clothing Storage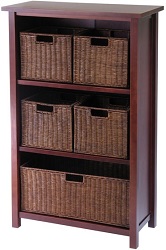 Separate winter and summer clothes. Store anything that's out of season or doesn't fit. Use plastic bags that allow you to evacuate the air by vacuum. This reduces bulk and optimizes your storage space.
Tool and Utility Storage
Keep the following tools handy in a small tool chest:
Hammer
Screwdrivers, flat and Phillips head
Wrench
Pliers
Tape measure
Level
Flashlight
Small assortment of screws and nails
Household storage solutions help keep your stuff neat and orderly, eliminating the chaos of clutter and mess. Utilize these five tips for a more organized household.
+Paul Reichman  years in home fashion experience have enabled him to offer all your home furnishing and decor needs with unique flare and style at Bedbathstore.com.