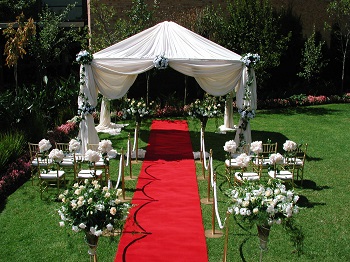 Weddings are becoming ever more expensive. With the costs of venue hire often running into tens of thousands of pounds, increasing numbers of couples are choosing to host their wedding receptions in cheaper outdoor spaces and back gardens. Here are some top tips for getting your outdoor reception to run smoothly:
Make Sure You've Got The Space
It's tempting to save costs and use your own back garden (or a family member's) to host your party, but if you're short on space, the whole thing won't run anywhere near as smoothly as you'd like. Think about the style of wedding you'd like, and if that translates to backyard setting. A buffet and grill, or a picnic style event will definitely work. A large, sit down meal that requires catering and an enormous tent might not.
Tidy Ahead Of Time
Make sure you've prepared the garden a few months in advance. If you're wedding is in the summer, try to find a selection of plants and flowers that will tie in with your colour scheme. Whilst your making these plans and preparations, think about where you'll situate the food and drinks areas. Get planning early.
Go With A Quirky Theme
If you chose a quirky theme, such as a vintage or rustic wedding, you'll be in a much better position to utilise a garden style wedding. Think about the decor and how it will blend in with the garden setting.
Use A Tent
British weather is fickle. That makes a tent a very sensible option. In addition, having a large tent really goes a long way to making the whole event feel more party like and atmospheric. Make sure you get the size correct for both the available space and the amount of guests.
Get The Catering Right
Make sure you've planned the catering to go with your garden theme. Buffet style BBQ catering works really well for this type of event. Likewise the drinks: Make sure the bar is well stocked and the drinks are chilled. You might want to hire a mobile drinks fridge like these examples from www.icecooltrailers.co.uk. Get the drinks right, and most guests will forgive anything!
Splash Out On Lighting
Back garden weddings are great venues for mood lighting. It's also a cheap way to decorate that has a massive effect on the ambience of the event. If you're going to splash out on one thing, make it the lighting.
Rent The Larger Items
There's little point buying in lots of garden furniture just for a single day. It's much more economical to rent the tables and chairs along with all the other catering equipment. The quality will be better, and you won't have to tidy up afterwards!
Get Personal
The great thing about having your reception in the garden is that you can make it a truly personal experience. Don't scrimp on the details. Make the whole house tie in with your theme.
Make Separate Zones
If you have the space, try and make different areas that different types of guests can enjoy.  Younger couples might prefer intimate spaces, older guests may want to sit in a quiet area away from children. Whilst you're thinking about zones, set up areas in the garden where groups of guests can play some games: Croquet, bowling, badminton. Anything that helps the guests to bond.
Hopefully these tips have inspired you to save some cash on your wedding reception and take it into the back garden. Whatever theme you decide upon, get planning early and remember to make it fun!
By Harry Price
Harry Price is a freelance writer who specialises in guest bloging. He left his career of interior designing to become an entrepreneur.