This article isn't an advertising piece for Roland because, as most modern musicians and producers know, this company's products are at the heart of music-making and music production. It's therefore a subject of much discussion when Roland releases a completely new product platform. Frankly, everyone wants to know as it's almost certain to change the way that people view parts of the music-making process.
Why is Roland so Important?
Over the past 30 years, Roland have been responsible for some legendary products, used by a wide variety of performers and producers right across the musical spectrum.  From RnB, to House, Funk, through to Drum & Bass and Techno, their influence is prevalent.
Either by intention or not, a great selection of their instruments have gone on to break musical boundaries and push genre development forward in such a way, that the brand "Roland" has really gained a lot of respect from studio producers and performers alike.
Most people have heard of the Roland TR-808 & TR-909 drum sequencer, the TB-303 Bass Synth, all of which are now regarded as classics.
In recent years, Roland have moved their focus away from analogue based instruments such as the above classics mentioned, and set their sights on creating modeling based engines replicating a range of acoustic instruments.
This varies from their COSM Amp modeling technology, to V-Drum percussion reproduction, through to the highly-regarded Supernatural Acoustic engine; recreating acoustic instrumental tones complete with performance articulation and playable nuances, never before heard on electronic instruments.
In the past couple of years, there has been a massive resurgence in analogue gear coming back into the market and really stealing the limelight once again.  It's fashionable once again to have real hardware with tactile control for both producing in the studio and performing live.  Manufacturers such as Korg have had great success with the release of their Monotron and Volca series, and have also reissued certain "classic" instruments like the MS20, once again gaining popularity with a whole new generation of musician.
In response to this re-ignition in trend, it has been expected for a while that Roland would re-enter the game in some way, maybe reissuing some of their classic units back into the market.
However, Roland being Roland decided to do this a little differently.
Enter the announcement of the "AIRA" series of products in 2014.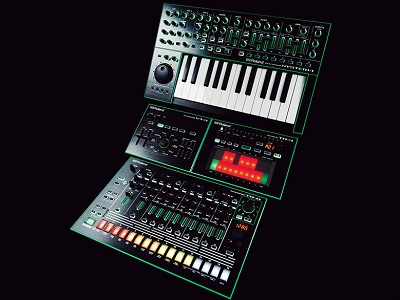 The AIRA Concept
This series of products was announced in early 2014, with much speculation and buzz with regards to just what was on its way from the Roland R&D bods.
Rather than just being a line of reissued products, these items have been designed to provide emulations of some of the most sought after analogue units from their history, but encased in thoroughly modern interfaces allowing modern updates to a classic idea.
This whole series is built around the new ACB engine (Acoustic Circuit Behaviour).  This models every single component of an acoustic circuit, in turn allowing a perfect reproduction of resulting tone including all subtleties in tone and character from the original modeled analogue unit.
Initially the AIRA lineup comprised of 4 models;
Roland TR-8 Rhythm Performer
Roland TB-3 Touch Bassline
Roland VT-3 Voice transformer
Roland System-1 PlugOut Synthesizer
We'll take a look at just one of the units by way of example of what the AIRA concept is all about.
VT-3 Voice Transformer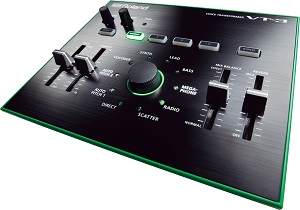 One of the legendary units from Roland's past recreated in the AIRA series is the Roland VP330 vocoder engine.
This vocoder can be heard on many releases past and present such as the Beastie Boys "Intergalactic", through to Daft Punk's smash hit "Get Lucky".
Instead of being built in to a keyboard style instrument, the VT-3 offers the sounds from the VP330's vocoder engine in a new, desktop style vocal processor, providing real time, easy access for controlling the vocal effects included.  With this unit, you can transform your voice into a synthesiser, both lead and bass as well as hard tuning, FX and more.
On the back is a single XLR/Jack combi socket, with phantom power for running condenser microphones.  On the front is a stereo minijack for smaller style microphone connection.
Two sliders are positioned on the left front of the VT-3 allowing control over Pitch and formant of audio input. The pitch can also be "locked" into a single pitch for manipulation by this slider by pressing the "Robot" button.
On the right hand section of the device are another 2 sliders.  The first being a Dry/Wet effect control, and the second providing a separate reverb applied to the signal before it hits the output stage.  Of course this can be used on it's own if desired as a simple touch of air to your vocals.
The middle section of this device is where you have quick control over effect applied.  There are 10 modes available to select, in the pitch correction side of things you have; Direct, Auto Pitch 1, Auto Pitch 2 and Vocoder settings.
Then, there are also Synth, Lead and Bass modes for transforming your voice into an instrument, great for live performance.
The Megaphone and Lo-Fi settings do exactly as described, providing some great destructive tones for adding variation to your performance.
Finally, a Scatter function is provided which is a new style of performance based control provided in some form on all of the AIRA series.  On the VT-3, it allows a stutter style effect that changes accordingly to the amount of intensity of audio signal fed through to the device.  A really nice touch for live performance usage.
There are also 3 scene buttons available on the top of this unit for storing your most used FX for easy recall in a live scenario.
For the studio guys, this unit also doubles up as a fully-fledged USB audio interface.  This will record both a Dry and Wet feed from the VT-3, directly into your DAW of choice for further editing.
In all, this unit provides a huge amount of FX and functionality for both live performances and studio guys alike.  Vocals can be tuned, mashed or treated subtly in a musical manner for adding a whole new level of interest to the resulting tone.  This flexibility in use is sure to make the new VT-3 a modern classic in it's own right.
By Andy Atkins
Andy Atkins has been writing about music for a very long time now, having cut his teeth in student magazines in the early '80s. More recently, he's written gear reviews and articles for musicians, usually on behalf of major musical equipment retailers or the big brands in guitars and music tech. He still gigs occasionally and badly.