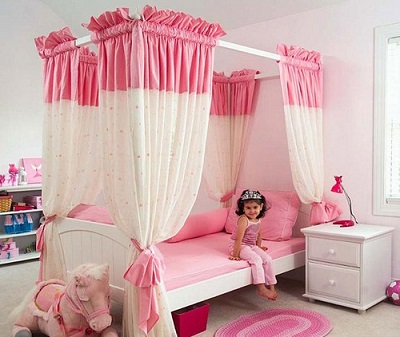 Little girls love fairytales and oftentimes imagine themselves to be princesses living in a castle in an era where there are princes, knights, dragons, and unicorns. Ask a child what she wants her bedroom to look like and she would choose a princess-themed bedroom almost instantaneously.
While this answer may be too intimidating for most parents, redecorating her bedroom to look like a princess' bedchamber can be done quite easily with the right paint color and a few beautiful pieces. The best way to start with this room decorating project is to draw inspiration from your little one's favorite fairytale stories. Get bits and pieces from these and add a little creativity and resourcefulness along the way so that her bedroom sends her to a world where she becomes the princess whom she admires.
Here are a few tips to get you started.
Color Palette
Start with color. And for your princess themed bedroom, pink should be the dominant color. This is the only color that you need to think of when decorating your princess bedroom. The ideal wall color would be a pale shade of pink, then complement this with brighter shades in the curtains, beddings, rugs, chairs, and lighting. You may incorporate other jewel tones as well such as lilac, white, powder blue, or mint green. Metallic accents in gold, silver, bronze, and copper would add a regal feel into the room.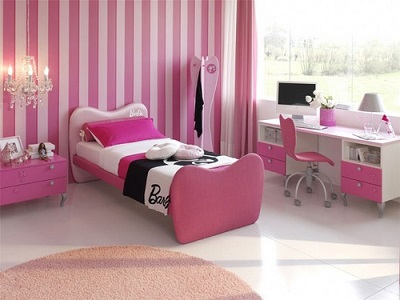 What Kind of Princess is She?
How you would be decorating your child's room will depend on what type of princess she is. Is she a Victorian princess? If so, accentuate her room with antique white, pale peach or floral patterns. If she is a designer princess, she would love her room to be filled with frothy pink color paired with poppy orange, or lavender with light brown trims. The modern princess would enjoy simpler designs in sleek white, sea-foam green or groovy paisley with a few highlights.
Wall Mural
Let her favorite fairytale stories come to life with a wall mural. A large castle will definitely be something she would love but if this would be too daunting, a mural of a garden with pretty flowers, small fairies flying around, and butterflies would also make her happy. There are pre-made murals that you can purchase and easily hang on the wall using wallpaper paste but, if your budget allows it, you can also hire a mural artist to create the perfect wall art for your little princess. Adorn walls with flower and leaf stencils for a dreamy, fairytale garden ambiance.
Bed Fit for a Princess
A canopy-style bed frame is the perfect princess bed because of its majestic and regal look. Make your little girl feel like a princess by surrounding her bed with sheer pink curtains. A simpler version with a four-poster bed would also look great with this theme. You can add a cornet and cover it with pink mosquito netting at the top of the bed to make it look like that of a canopy. For both types of beds, you can take it up a notch by wrapping artificial vines or greenery around the bed's frame or posters for that fairy tale garden appeal. To create an even more magical look, wind white twinkling lights through the vines. These string lights can also double as a nightlight.
Window Treatments
For your princess bedroom, we will use luxurious window treatments instead of blinds. Floor length curtains in a soft pink color are best. Choose sheers which you can pair with blinds or shades if needed. Tie back the curtains with large bows in purple, green, and white satin ribbons. You can also use the same artificial vines and twinkling lights that were used for the bed to accentuate the top of the curtains by draping these instead of using a valance.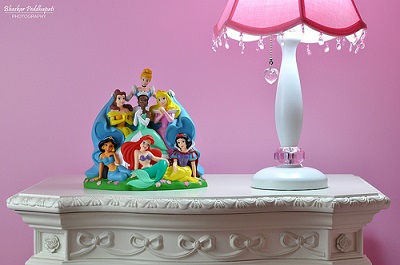 Don't Forget the Lighting
Remember to always include lighting in your redecorating plan. Having the perfect lighting for your princess bedroom is crucial to achieve that overall magical feel. A pink chandelier with beads and lace would look lovely in a princess bedroom. Add a lamp with the lace, flowers, beads, or even prints of fireflies, butterflies, fairies, or unicorn. You can even get a bit more creative and cut out pictures from old fairytale books and paste these on the lampshade.
There are a lot of ways a bedroom can be designed and budget should not be a show stopper. With a few beads, artificial flowers and leaves, lace, sheer cloth, and paint, your little girl can have her fairytale fantasy world come to life.
Joan Silver is a known lighting expert from Capitol Lighting and a fan of all things "lighting". She currently provides customers and designers with robust information on their lighting needs.