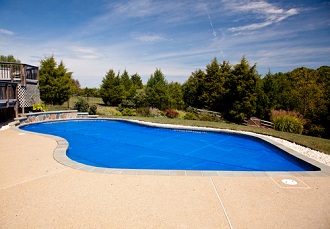 People who seal off their swimming pool during the off-season with a cover made of tarp quickly discover that these products frequently need repair. And after just one or two years of use in the rough Canadian climate, they usually get trashed.
Those pool owners who still use tarp covers often resort to duct tape or patches and epoxy glue. This creates a funky patchwork that may work in the short-term, but causes Olympic-sized headaches.
Replace your tarp with a safety cover
An increasingly popular method for sealing off a pool from the outside world is commonly known as a "safety cover." These are designed to provide security and peace of mind, reducing the risk that anyone – including kids and animals – will fall into your pool.
These covers are tough. Absolute safety is impossible, but these covers can withstand a heavy load.
The form-fitting covers require very little maintenance – snow melts right through – creating an attractive landscaping feature on your property, especially when compared with a saggy tarp.
Unlike a tarp, these safety covers are built to last. The high-quality safety covers comes with warranty as well. When you decide to replace your pool covering, you can approch any professional suppying such quality covers that is tough enough for a Canadian winter.
Fixing your safety cover
But eventually you may find that your safety cover starts to become slightly torn. This is part of the normal process of wear and tear. For a quick fix, some duct tape will do the trick temporarily.
For a stronger solution, replacement parts are available from PSP Fabricating.
Safety cover patch kits are also available from some retailers and websites. These products are billed as an economical way to fix tears or holes up to about 7.5 cm (3 inches), and they come in several colours.
Patching a safety cover with one of these kits simply involves cutting the material into the desired shape, removing the film from the adhesive backing, and then applying to the affected area – just make sure this part of the cover is clean and dry first.
It's a good idea to get these rips fixed as soon as possible, even though the interlocking mesh structure of a safety cover tends to be very resilient. But the rip can grow if a big pile snow accumulates on top.
Big jobs
In severe weather, you may have a bigger problem on your hands. If you should find that something has created a major breach in your safety cover – the wayward limb of a tree after hurricane-force winds, for example – then it's time to call in the pool covering specialists.
For safety in your backyard, PSP Fabricating supplies quality covers and hot tub accessories that are made to last. Whether you are interested in upgrading from a flimsy tarp to something more durable and attractive, or you need some help with a repair, PSP can help you achieve your goal.
Gina Brewton has been in the home improvement industry for the past 7 years. She is presently working at a residential cleaning company in Toronto. She is also a part time interior designer. She has her interests in cooking, photography, craft and painting. Follow her on [email protected].