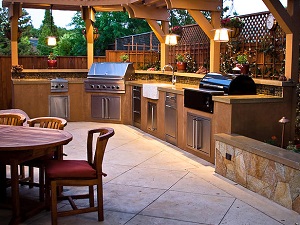 As spring approaches and summer is eagerly on the horizon, dinners move outside. Many people love to spend their spring weekends and summer evenings enjoying their favorite hot dogs freshly grilled in their backyards. Kids love playing by the poolside and often insist on having their food there.
With so much happening outdoors, how great it would be to have an entire kitchen set-up in the outdoors? An outdoor kitchen can convert your backyard into the liveliest part of your house.
Great for socializing, outdoor kitchens are a trend that has been on the rise for years. Although such space is comfortable, inviting, and aesthetically pleasing, the expenditure of a poorly done outdoor kitchen can easily drill a hole in your pocket. Therefore, there are few things you need to consider to create a beautifully designed, successful outdoor kitchen that can help you make most out of your summers.
1. Think Carefully About Appliances to Include
In order to find out what appliance you will or you will not need in your outdoor kitchen, you first need to think what kind of food you will be cooking the most. For example, if you do not like to bake, then probably you will not need an oven outdoors. You need to carefully analyze the necessity of appliances before rushing any decisions.
Things like a stove and a refrigerator might get damaged in rain, sun, or moisture. Therefore, you must use an outdoor version of such appliances in your outdoor kitchen. Also, the size of backyard, and money you are looking to spend are other factors deciding what are the stuff you can have in your outdoor kitchen.
2. Durability is Important
Durability of outdoor kitchen is as important as its style. Products used in an outdoor kitchen must be able to stand up to the elements. If you live in an area with harsh climatic conditions, you need to be more concerned about the appliances you choose. Items such as the grill, stove, oven, refrigerator and fire pit should be covered with protective coverings and sealants. For kitchen counter-tops it is recommended to use materials like stone, granite or concrete and minimize the use of metal, which is prone to rust.
3. Save Some Budget for Accessorizing the Kitchen
Whatever portion of the budget you are left with after buying the right kitchen appliances and counter-tops, use that to accessorize your kitchen. By purchasing few low cost decorations, lighting and weather-resilient pillows, you can convert your backyard into a vibrant and comfortable place. Take special care of lighting as it will allow entertainment even during evening hours and will let you have a relaxing dinner with your family and friends.
4. Get it Custom Designed
There are certain things which you cannot do in your indoor kitchens such as smoking certain meats or blackening a fish. When cooked in outside kitchen, it is much easier to clean it up. You can get your outdoor kitchen custom designed so that you can fulfill your culinary fantasies here. You can take suggestions about materials and designs from the contractors and give them your final say.
5. Location, Location, Location
In some areas the heat of the summer months can be unbearable. However, people there can still enjoy their outdoor kitchens in the cooler seasons. For those in more temperate climates, outdoor heaters can be added in the winter to keep the outdoor kitchen cozy. So whether you have a garden or an empty backyard, an outdoor kitchen just might be what you are looking for.
Ryan Dominguez is a home improvement blogger who loves writing about rustic outdoor kitchen designs in his native Houston, Texas.