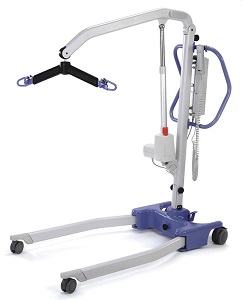 Choosing the best mobility hoist can be rather challenging, especially considering the variety of different models that are available. It is something that you should definitely think about carefully because the right hoist can improve the patient's quality of life remarkably.
Thousands of disabled people and their carers are struggling through each day and don't realise that one piece of equipment could make things so much easier for both parties. But which one should they choose and how to go about deciding on the best ones? We will cover the main needs that need to be addressed in this article, please read the remainder if you feel that you may need some advice on this matter.
Do you need a hoist?
Okay, this first question may seem a little cheeky, but it needs to be answered. Hoists are bulky and can be very expensive, so can you use another smaller piece of equipment instead of a mobility hoist? Speak to an occupational therapist and they can help you to decide on the best options.
Ensure the host meets your needs
If you have decided that a mobility hoist is the only way to go, you will need to speak with your OT to decide on the best model that will suit all of your needs. Remember that these people are professionals and have seen a lot of people's lives changed for the better as a result of picking the best option.
Will the hoist fit in your home?
Even the more compact models can be pretty large pieces of equipment, so choose one that can fit into your home without any modifications. You must have the space to move the hoist between rooms and your bed and chair should have sufficient clearance space also. Can the hoist be easily transported and will you be able to dismantle it for trips and holidays? You also need to look into how you intend to charge up any battery packs for electrically powered hoists.
Who uses the hoist?
Your carer needs to be brought into the equation as he or she will be the one who is using it to move you around the home and outside. Ask them to see if they are comfortable with the operating instructions and are they able to physically move you in the hoist when required? If you choose an electrically powered hoist, they will need to be familiar with the charging procedure and any other maintenance issues that are bound to arise.
Where to look for the appropriate hoist?
Your occupational health therapist will be able to show you a few available options but remember that the final word is down to you, so take your time and explore as many sources as possible. The internet should have plenty of online businesses that have a decent choice for your perusal. It can be an expensive purchase, so don't ever feel as if you are rushing into something, you may well regret this later on.
Help with payment
Depending on your financial status, you could well qualify for a government grant scheme. These grants have been available since 2003 and they can be used to replace your Community Care Service and this allows the patients to have some choice as to the type of equipment they'd prefer to use. Once you have been granted the money to buy a mobility hoist, you are free to spend as much time as you like looking for the best option. Never let anyone pressurise you into buying a mobility hoist as you are the person who should have the final say.
James Derwent's interests include blogging, reading, listening to music and steam train travel.