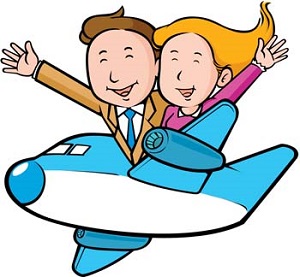 It would be advantageous to you if you keep things as simple as possible when you travel. This will enable you to reduce the hassles of travelling. Here are some tips on how to make things convenient for you when you are on a trip.
Tip Number 1: Wear Slip-on Shoes
Untying your shoes to remove them and tying them again when you put them back on is one of the most annoying things that you will encounter during the airport security check. If you don't want to be the one blocking the security line, then it would be better to wear slip-on shoes when you travel. In this way, you will be able to remove the shoes easily and put them back on without the need of tying the shoelace.
Tip Number 2: Audio Books Are Better
Maybe you are planning to bring a book to read so that you have something to do while you are on a bus or a plane. After all, it is boring to do nothing while travelling to your destination. However, bringing an audio version of your favourite book (on your smartphone or an iPod) is a wiser decision. Listening is more convenient than reading. Audio books also eliminate the hassles of reading small letters while having a bumpy ride on the bus.
Tip Number 3: Don't Forget the Hat
Whether it is winter or summer, you must never forget your hat when you travel. A hat can provide warmth to your head during cold season. It can also shield your head from the burning heat of the sun during summers. You can also use the hat to cover your face and block the light in case you are planning to take a nap on the plane or the bus. Moreover, wearing a hat is one way of hiding your baldness (just in case you are bald).
Tip Number 4: Put Some Cash in Your Pocket
Although this is the age of ATMs and credit cards, you must still bring some cash with you. There is always a chance that you will find some street vendors that sells unique stuff. It would be a pity if you can't buy them just because you don't have any money in your pocket. Furthermore, you need some bills in your hand in order to give a tip to the taxicab driver. You don't want to receive an angry glare from him, do you?
Tip Number 5: Bring Basic Medicine
There are times that you will feel ill during your travel. Therefore, it would be wise if you bring medicine with you. You will be in an embarrassing situation when diarrhea attacks if you don't have a medicine to counter it. Headache medicines and antacids are some of the drugs that you should bring with you.
If you are travelling in order to have some time to relax and unwind, then you need to make sure that everything will be convenient during your trip. Following the tips mentioned above will make things easier for you and reduce the hassles that you might encounter while travelling.
Jane Tucker is an avid traveller who has visited numerous tourist attractions in various parts of the world. During her spare time she writes blogs and articles to share her experiences with other people. She recommends Edinburgh Pearl Apartments to those who are looking for accommodation options.