I can bet my bottom dollar you've heard about the PRISM program that was established and used by the US NSA (National Security Agency) to collect data from Internet communications. Several major technology companies appeared to be participants of the program: Youtube, Skype, Facebook, Google…
Given the privacy-invading capabilities of this data-mining program, many people decided to keep from these communication apps and switch to the less known, but by no means less convenient and quality web services. Luckily, there are dozens of those on the Internet. In this post I'd like to focus on one of them – CFC (ex CallsFreeCalls) which can be a decent alternative to Skype.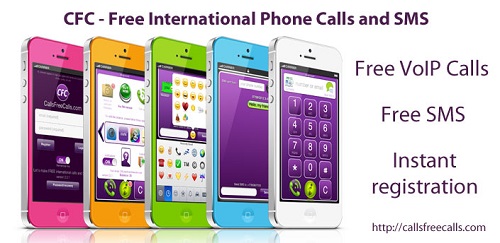 How It Works
CFC rests on VoIP technology (Voice over Internet Protocol) that has proven incredibly successful in the communication services. Thanks to this sophisticated technology you can now make free calls and send SMS over the Internet without sacrificing the quality of the process. All you need is to download the application, install it, register and make your first free call :). That's it.
Why Free?
The app itself is quite simple and straightforward: you 'earn' bonuses and exchange them for free calls and messages. Don't fret, earning implies watching adverts :). All you need is a couple of minutes per day to refill your bonuses. You watch the ads and get free services in return. But if you have no time to view ads, you may take a shortcut: you can purchase bonuses (1,000 bonuses: $9.99; 500 bonuses: $4.99; 200 bonuses: $1.99). So, you can either earn bonuses using offered sponsorships (besides ads, there are also special offers, games and apps to download etc.) or simply purchase these bonuses.
What's New in Version 3.0
CFC devs have been wearing their keyboards out to improve the app as per their clients' needs. The latest version of the iOS app can boast the following features:
Complete redesign.
Custom design feature: CFC allows you to change the color of the interface.
Internal messages protection: if needed, you can encrypt your messages and prevent them from saving on the server.
Free internal calls: no need to earn bonuses (applies exclusively to the CFC network). Invite your friends and communicate free of charge within the Community.
Improved quality of voice channels.
'Happy Friday' giveaways: the ability to win bonuses on Fridays has been implemented.
New sponsors have been involved: earning bonuses has been made funnier :).
The program supports multiple languages (English, Arabic, Chinese, Hindi, Russian, French, Japanese and many others). The app works on the iPhones, iPads and iPod Touch.
Start Making Free Calls in 5 Minutes
All you need to enjoy the awesomeness of the app is one of the aforementioned iOS devices (for Google fans, there's also an Android version) and a stable Internet connection (Wi-Fi or 3G). Find the app on iTunes, download it free of charge and install it on your device. Once you've completed registration you can start earning bonuses and making free calls and send messages. Remember to rate the app and share your experience in comments :).
Robert loves testing and reviewing tech gadgets and apps. He shares his experience on http://yourtechlib.com/, a website covering various tech topics.