That's it. The gloves are off. There's no point trying to paint it with different colors or speculate otherwise. It's there, open, apparent, clear and even with a bit of sneer. Foursquare has now fully steered into the local recommendations/ratings zone.
Couple of weeks ago Foursquare unlocked its Explore engine to all (whether if logged in or not) which signaled on the service's intention of becoming a major recommendation player. Now, Foursquare daintily adds another seemingly tiny (but yet so big) new related feature which further aligns with those intentions.
Henceforth, after entering a certain venue through the Explore search engine, a petite one-to-ten greenish rating box will also be displayed.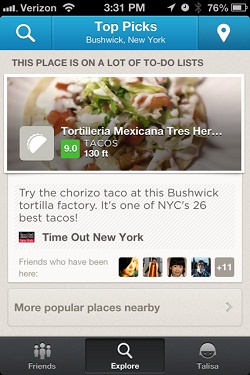 Foursquare doesn't reveal how exactly it formulates each venue's rating, but it disclosed what are the factors that are taken into the calculation:
We look at signals like tips, likes, dislikes, popularity, loyalty, local expertise, and nearly 3 billion check-ins from over 25 million people worldwide.
Foursquare hadn't hid its scorn towards other review sites such as Yelp. Just glimpse at the announcing post's headline ("Foursquare Explore now has ratings powered by where people actually like to go, not just star ratings") and afterwards on the post, mocking sites granting each place 3.5 stars. If you didn't know, Yelp has "just" a star ratings system.
It seems that the tension between Yelp and Foursquare has already begun a few days before that when Keith Rabois, a member of Yelp's Board of Directors, Tweeted that "4sq is a myth." Foursquare's founder and CEO Dennis Crowley didn't stay apathetic and replied directly to Rabois "Looking forward to proving every single one of you haters wrong." Twitter geek war!
@rabois @rakeshlobster Looking forward to proving every single one of you haters wrong.#HatersGonnaHate

— Dennis Crowley (@dens) November 2, 2012
Anyways, it also seems that Rabois isn't the only doubter/hater in the tech wilderness as Foursquare been reported to face some difficulties while the company tries to harness investors to a new funding round at a (dazzling) valuation of more than $700 million. I guess that until Foursquare will prove itself as a worthy opponent in the local recommendation/rating world haters gonna hate and doubters gonna doubt.
The new rating feature available on Foursquare's website and on the new iOS app (no ETA for Android yet).