These are not easy days for Foursquare. Whilst just a few years ago it was a revolutionary location-based social networking service, today, it lost its old times' uniqueness as any other social network offers location-based features. So Foursquare tries to adjust, evolve if you will, to restore its lost innovation glory.
History already proven that the tech market relentlessly and quite swiftly replaces the old with the new. If Foursquare wants to survive as an independent service it has to develop.
And I suppose that's how this new enhancing feature of Foursquare has sprouted: The company has announced it is beginning to offer its local recommendations search engine, Explore, to anyone who seek for this kind of information even if they aren't signed-up to the service.
From now on anybody who will enter Foursquare's homepage, whether if registered or not, will encounter the Explore search box which enables to search for local recommendations in the middle of the page as the map of the user's current location sprawled in the background.

Foursquare's Explore holds an enormous data-base which has been collected by the service's community over the years, about 3 billion remarkable check-ins and 30 million impressive tips according to Foursquare. With that kind of local knowledge engine, Foursquare promptly settled as one of the largest competitors in this arena.
And of course that means entering other rivals' turf. Yelp, Urbanspoon, Zagat and even travel recommendations sites like TripAdvisor are now direct adversaries of the newly refined Foursquare. And they have a lot to worry about because Foursquare does possess merits which they don't.
The greatest advantage of Foursquare over other sites is that it has a strong-loyal user base of 25 million social networking members. Even if its growth has drastically declined in the past two years, it still can grants a much more personalized experience than other recommendations services.
Foursquare states that is has multiple signals to endow an "intimate" experience such as venues' popularity, current trends, experts' suggestions, day of the week and more. Obviously if the user is logged-in then it can intensely improve with more personal signals like friends' recommendations and the user's own history.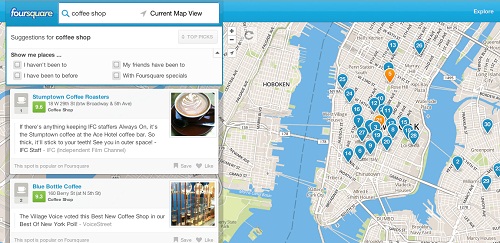 I'm impressed that Foursquare reckoned that the days where it solely stood as a location-based social network are over and it has to offer more than that to remain relevant. The transition into a local recommendations service definitely strikes me as promising. Competition is an incredible thing and eventually the ones to benefit are the consumers.