There are times when a simple text ad can't really convey the message the advertiser wish to deliver. The couple of lines plus a headline is sometimes just not enough to convince the potential client that the ad is worth clicking on. Perhaps a video will be more effective for your promotion efforts?
Apparently, this is what the folks at LinkedIn Marketing Solutions team think as they have begun allowing advertisers to post video ads throughout the professional social network.
LinkedIn's online marketing manager, Will Hambly, has posted on a blog post that the new video ad option is already available on the company's self-serve ad platform LinkedIn Ads, adding that "video ads are a way to educate, persuade, and inspire LinkedIn's 175M members."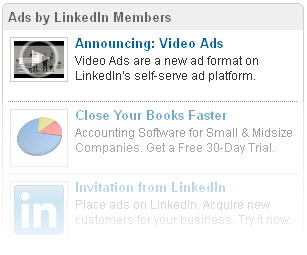 The video ads will look like a regular ads inside the 300×250 ad units which are scattered across the social network and will be stamped as video ads on the ad's thumbnail (as in the above image). Once a user will click on the video ad, it will fully be stretched over the 300×250 ad unit and play a 30 seconds video. Afterwards, the user will have the possibility to visit the advertiser's website or company page on LinkedIn.
What's nice about this advertising possibility is that it's entirely integrated with YouTube- advertisers can insert a YouTube link for the promotional video (only videos up to 30 seconds long). This way, even after the campaign is over the video remains publicly available on YouTube and can attract more viewers organically.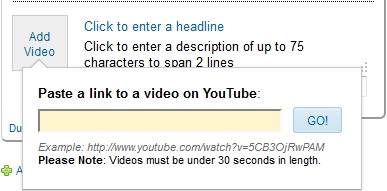 How much will a LinkedIn's video ad will cost? Supposedly, just like any other ad. Note that the minimum cost per click for an ad on LinkedIn is $2 (which definitely isn't cheap) and can go up until the advertiser's bid. Of course you can also choose to pay a set cost for each 1,000 ad impressions (CPM), no matter how many times people had clicked on your ad.
It seems that after LinkedIn had presented the new polished profile pages last week to increase their user-engagement, now the company has taken the step to boost the user-engagement with the social network's advertisements. Video ads certainly look promising from that angle.