LinkedIn obviously isn't the biggest tech company in the world. It certainly isn't the most profitable one. It isn't as branded as Google, Facebook or even Yahoo. It isn't the largest social network. However, it still the most stable one out of the tech companies that went public over passing year.
At times where people lose their cheapest set of underwear after catastrophically investing in a "sure thing" which is surely isn't "a bubble" (the forbidden word), this stability is perhaps the wet dream of investors who stormed into the market and eventually remain naked.
And now again, with the latest quarterly results, LinkedIn proves it is probably the most balanced tech company which begun trading publicly for the last year and a half. The company showed solid growth at almost all key aspects and even revised its future earnings projection upwards (happy times for shareholders!).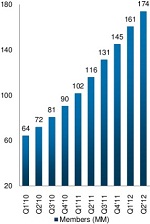 Solid Member Growth, Although Slightly Less Active
Probably the most important metric for each social network and which it's heavily depended on, is the overall number of members. On the second quarter of 2012, LinkedIn managed to keep growing in a solid rate of over 8% (or 13 million members) to a total of 174 million. After the data released, LinkedIn has already reported to surpass the 175 million.
The bad news in this front are that it seems that the users are slightly less active on the social network. If in the first quarter of the year the average quarterly pageviews per visitor was 91.3, in the second quarter the average went down by nearly 4% to 87.8 (according to comScore stats).
It's nothing chaotic really, but still worth keeping a lookout for the future.
Revenue Growing, Projections Are Up
Another key aspect that shareholders can be satisfied with is the quarterly revenue LinkedIn generated. While analysts predicted a revenue of somewhere between $210-$216 million, LinkedIn reported on a total of $228 million, which I'm sure made many investors shout and wave their hands Jerry Maguire-style.
2012 second quarter's revenue represents a fantastic increase of almost 90% compare to the second quarter of 2011. As a result of the faster than expected revenue growth, LinkedIn's financial executives have elevated the yearly earning projection to $915-$925 million from $880-$900 million. (which made investors to scream enthusiastically "Show Me The Money!")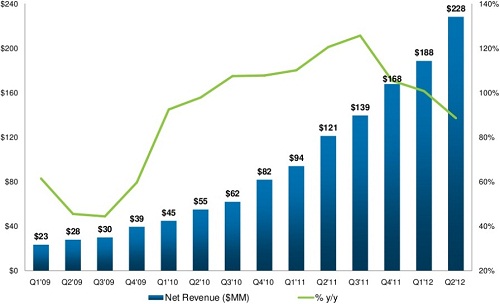 LinkedIn's excellent second quarter results were also reflected on the company's share, which went up after the market closed by more than 7%.