As we are approaching the end of 2012, the fabulous dewy smell of winter is in the air, the magical aura of the holidays is already tickling and the imminent conclusion of the year is forthcoming. But if you are a merchant, you don't really care about all that crap.
The end of the year means one particularly special thing for you, the shopping season. The time of the year where the wallets are being drawn and gifts are expeditiously snapped. The most profitable days of the year. Miraculous times.
As an online merchant, you'll probably want to exploit all the commerce tools the web has to offer. Facebook already introduced its exciting e-commerce service a few days ago, so now it's the turn of the other ruler of the virtual world, Google, to exhibit its own or in this case, to re-exhibit.
Google Catalogs first launched in August 2011 as an app for tablets and now the company also brings it to the web. The service operates under the demonic fangs of Google Shopping, which means that as a merchant you'll have to pay-for-play. But unlike my strong opinion against the greediness of Google Shopping, I actually think that Catalogs is a service worth paying for.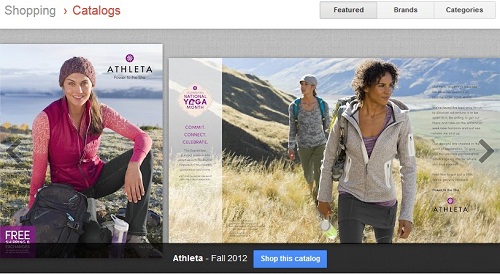 Catalogs offers quite a uniquely remarkable shopping experience which shows how print catalogs should evolve into the modern world with clickable interactive images, videos and completely superb virtual browsing interplay. Additionally, Catalogs can be a pretty popular clientele web destination now when smart mobile devices are now the mainstream.
For retailers/merchants, I think that Catalogs definitely worth the time invested to create the high-resolution PDF catalog and the money invested necessary to participate in Shopping (Catalogs requires you'll first have an active product feed in Shopping).
So why am I so opposed to Google Shopping but in favor of Catalogs as a paid model? Because Shopping suppose to be an unbiased shopping search vertical (in theory at least), and making it a giant ad section powered by AdWords is in essence the most basic definition of biased.
In contrast, Catalogs suppose to provide merchants the platform to promote their own products themselves and ergo it is obviously inclines to be partial towards the publisher. In my opinion, Catalogs should be a separate paid-for-play service from what should be free for inclusion Shopping.
But of course, they are not separate. The two services are entwined under the same paid-model roof which probably aims to grant another incentive for merchants to participate (/pay) in Shopping. As the shopping season about to blossom, many merchants will likely to flock into Shopping in order to join Catalogs. Nicely played, Google.
To learn more you can visit Catalogs Merchant Help Center and if you want to apply for the service you need to fill out the interest form.