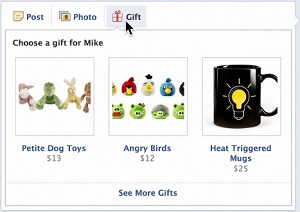 When you have a community that comprises about a billion dutiful heads, at some point along the way you'll find the right path to scrape the felicitous amount of money out of it, no matter how screwed up your mechanism is. But enough about China. Facebook has an enthralling new e-commerce service.
The still-struggling-with-Wall-Street social networking company has introduced a new way for people to send shit (shit = materialized gestures) to one another, and you know, people love to receive shit (shit = free stuff) so this service looks like it's the shit (shit = super-awesome) although sometimes the shit (shit = greedy retailers' products) is just shit (shit = shit).
And they are calling it Gifts.
Don't be mistaken here by the alleged pleasantness appearance. Gifts is a full-throttle roar of Facebook towards the e-commerce industry, indicating that the social network is fearlessly (re)entering this arena to take on giant retail adversaries like Amazon and eBay. But unlike its prior attempt back in 2007, this time it seems Facebook went all the way with REAL tangible products.
This is how this new service works: Say one of your friends had a significant event in his/her life like marriage and it appears on your sidebar. A simple note below the event notification (as in the photo below) will allow you to instantly send him/her a gift to celebrate this event.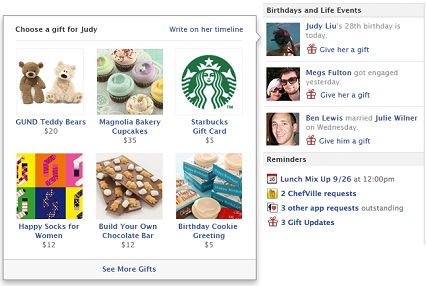 Once the recipient will see and approve the gift, it will be delivered by the retailer to his/her doorsteps after a few days. Of course sending a gift doesn't requires any special event, users can simply enter their friend's timeline and click on the Gift icon. The sender can choose to get charged immediately or only after the recipient approve the gift.
One cool thing about Gifts which can resolve a lot of inconvenience is that the recipient can alter the gift's attributes (size, color, etc.) or even completely exchange it for a different similar-price gift. We all know that what eventually really matters is what the greeting card says, which is obviously fully customized too.
Gifts is utterly intertwined with Facebook mobile app and mobile website, which shouldn't surprise anybody- Most of the social network users are already using mobile devices and, as (Lord) Zuckerberg also pointed out few weeks ago, it is only more likely that this trajectory will be sharpened in the future.
For partner merchants, Gifts can be an extraordinary opportunity to reach for colossal quantity of people. At the moment there are only about a hundred of retailers participating in the service initial launch but Facebook is looking to enhance its partnership furthermore to grant more products diversification. If you are a merchant that want to partner up with Facebook Gifts as well, you can submit the following registration form.
Gifts will be gradually roll out to all users over the next few weeks, starting with the U.S. first (because people from the U.S. like shit the most).