Apparently, Facebook strategy for continuous growth and further user-engagement goes through mobile apps and to execute this strategy Facebook granting (and pretty much compelling) developers more and more tools to implement the social network's different Social Graph features instead of their own.
After Facebook begun obligating developers to switch for Built-In Like Action instead of their app's custom like button, now lil' Mark and his fellow comrades are generously enough offering developers to integrate Facebook follow actions into their apps. Okay, more "forcing" than really "offering"…
Facebook announced about the launch of "Open Graph built-in follow action" that will provide developers the possibility to add the social network's follow button into their app and which will allow users to start following people directly from third-party apps without the necessity of leaving them to Facebook.
How does it works exactly? After the developer integrating the built-in follow action into the app, a simple follow button will appear near people which are featured on the app. Here's an example of follow buttons below people within a third-party app: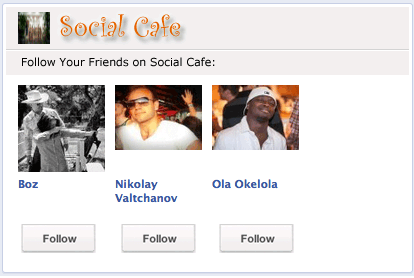 After clicking on the Follow button, the follower will receive a notification indicating about the following action and it will also appear on his/her Recent Activity box. From that point onwards, whenever the followed person will post something on the app, the follower will be notified on his/her News Feed and ticker.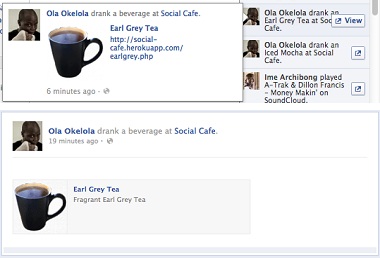 Facebook stating that from now on they will no longer approve apps which contains their own local customized follow actions and only Facebook's built-in follow action is allowed. Developers must switch from their current customized follow actions on existing apps to the built-in follow action in the next three months (until late September).
I don't really like the fact that Facebook obligates developers to implement its Open Graph features instead of their own customized actions but I have to admit it would most probably reinforce Facebook's status as the undisputed king of social, which was obviously the whole idea behind it.