One of the greatest challenges of site owners is to allure visitors to discover more contents on the site (I can testify about it myself). Social recommendations, especially from people the user knows, were always an incredible incentive for users to browse through more contents.
For site owners, this simple sociological human behavior pattern of "joining the flock" already proved to be powerful if used wisely and there are currently many tools and plugins on the web (mostly thanks to Facebook) in which visitors can receive content suggestions from their friends and others.
But now, the great social recommendation content discovery tool is also coming from a new direction by Facebook's competitor, Google+. The fellows at Google+'s developers team have posted that social recommendations from Google+ will be displayed on websites by using the +1 button.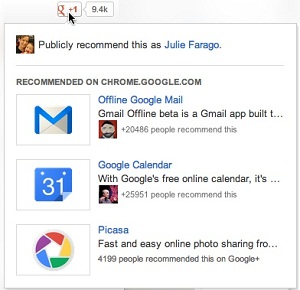 The new social content discovery recommendation box will open up whenever a visitor will hover over the +1 button (as in the image above). The box will highlight content suggestions from pages on the same domain/subdomain that friends (when available) and others, have +1'd.
Google+ engineering manager Julie Farago is stating that the new feature will work for visitors whether they are logged-in their Google account or not. But when visitors aren't logged-in, they obviously loses the personalized suggestion experience which allows them to see what their friends have recommended.
I believe that this is actually a fantastic addition which can only help site owners to expose more of their site's contents to visitors and to increase the on-site engagement rate. At times where social is so heavily rooted into the web and only keeps penetrating, any friendly social feature is blessed.
The fact that the recommendations are already tailored within the +1 button just makes it a better social button which is already pretty widespread across the internet and would encourage more site owners to install it over their sites simply because it is quality enough and not because Google forces to (as they often do with Google+ features).
Sorry Facebook, but your Like button just became a lot more boring (but it would probably continue to dominate). The new social recommendations feature will automatically arrive to all +1 buttons across the web on the next few weeks.