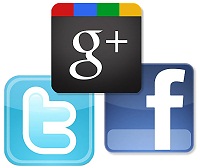 One of the ways to appraise which are the most popular social networking sites on the web is simply to impress roughly on how many websites the social network's plugins and widgets appears. That creates a pretty accurate reflection of the social networking state.
You see, that works by a very basic principle: Site owners clearly wants to attract as many people as possible to their websites and by integrating plugins and widgets of social networking sites it allows visitors to recommend their friends about the site, which drives more traffic.
But site owners can't flood their pages with ALL social networks' plugins, that will just confuse and overwhelm visitors. Therefore, only the few largest social networks with the highest potential people will engage with are being chosen to be highlighted on websites.
So, which are the most common social networks' plugins and widgets? A recent study by the monitoring service Pingdom perhaps can offer us some answers. The Pingdom guys have analyzed the top 10,000 sites' homepages on the web (according to Alexa) which can paint a pretty good general social picture.
Facebook, Twitter and Google+ Leads The Way
You probably won't be surprised to find out that Facebook is the most integrated social network into websites but you are likely to be surprised from its infiltration scope. On 24.3 percent of the sites appears some Facebook plugins or widgets and if including also the "regular links" it surges to 49.3 percent.
Amazing. Nearly quarter of the sites have some Facebook integration and almost half are linked one way or the other to the social networking giant. What about other social networks? Well, Google+ beats Twitter by plugins and widgets but Twitter surpass Google+ by links.
On 13.3 percent of sites' homepages appears official Google+ plugins and widgets compared to 10 percent of Twitter's. However, if also counting regular links then Google+ appears on 21.5 percent of sites' homepages and Twitter rising to 41.7 percent of sites' homepages.
What is the reason for this difference? Site owners perceived Google+ social annotations (+1, share to Google+) as the most effective social signal for search rankings as it also demonstrated by few other prior studies. Therefore, the implementation of Google+ plugins by site owners is higher than links implementation.
Just in case you asked, LinkedIn plugins appears only on 0.6 percent of sites' homepages and if including links it appears on 3.9 percent. Here's an overview of the top 10,000 sites' social networking connection:
Facebook– 24.3% Plugins, 49.3% Including Links
Google+– 13.3% Plugins, 21.5% Including Links
Twitter– 10% Plugins, 41.7% Including Links
LinkedIn– 0.6% Plugins, 3.9% Including Links
Note that the study only examined homepages and the results could turn to be rather different if it would have analyzed inner pages as well. For example on Working Home Guide's inner pages we have Pinterest Pin button but not on the homepage.
It will be interesting to see how the social networking landscape on websites will now change after Facebook released its official WordPress plugin, which can have a big impact.