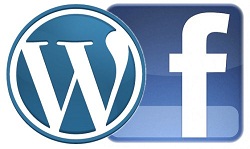 Finally. After way too long there is finally an official integration between WordPress to Facebook. This is a pretty huge deal because while Facebook is the largest social network in the world, WordPress is the top CMS for the most popular blogs online.
Facebook has posted that the company's engineers with few more partners have developed an official Facebook plugin for WordPress. The plugin contains many of Facebook features on one plugin and basically makes all the thousands unofficial third-party Facebook plugins redundant.
After you install the plugin, you'll have to create a Facebook app first before you would be able to use all of its features. To do so, simply follow the plugin step-by-step instructions and copy your app details into the plugin setup page from your blog dashboard.
These are all the plugin's Facebook features (all are optional and can be customized):
Social Publisher- Allows to publish new posts immediately to the user's Timeline and/or Facebook Page simultaneously and directly from WordPress (see photo below).
Like, Subscribe, Send Buttons- Implement Facebook's social sharing buttons on the blog's posts and pages.
Comments- Insert Facebook Comments box into the blog's posts and pages to replace WordPress comments feature.
Recommendations Bar- A social bar at the bottom of the blog's pages which offering users more recommendations from the blog, the option to Like the page and allows sharing to the users' Timeline as they read the story.
Widgets- Like/Send/Subscribe buttons, Recent Activity and Recommendations.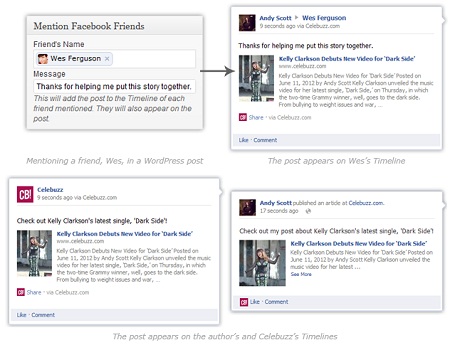 Personally as a WordPress blogs' owner, this plugin can be extremely useful to me. First, I use Facebook Comments which until now required a lot of coding to implement correctly or using third-party plugins which not always works properly. By using this plugin, not only that Comments implementation is easy but also includes full SEO support.
Additionally, the Recommendations Bar seems to be a really great tool to increase users' engagement on the site (Like, more pages recommendations) and also through Facebook if they grant access to the app (publish to the users' Timeline as they read pages).
WordPress blogging platform is powering 16.6% of all sites on the web and Facebook has over 900 million users so I'm pretty surprised that only now they are offering official integration. But I guess it's better late than never.