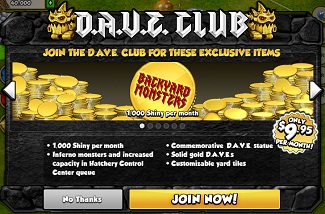 Ever since Facebook became a public company, it also has to take into consideration its many shareholders which expect the company to maximize its revenue streams. Therefore, the company introduced few updates recently to simplify the payment process for users which can boost profits.
For example, few weeks ago Facebook presented a very simple way for users to promote posts and later on it presented the option for payment through mobile carriers. Now, Facebook taking this payment process simplification efforts another step forward with couple of additional upgrades to the social network's payments mechanism.
On a new blog post on Facebook Developer Blog, the company introduced two new updates- Subscriptions as another monetization method for developers and a conversion into local currency instead of the platform's current branded currency Credits.
Subscriptions
Until now, developers could have implemented only the possibility of a single purchase payment feature for their users. Well, from the beginning of July developers will also have the possibility to implement a new recurring payment feature called subscriptions.
With the new payment feature, developers can ask users for a periodical recurring fee (monthly-basis at this point) in exchange for premium services and contents. The new feature is already in testing by Zynga and KIXEYE (see image at the top).
Subscriptions will become available for integration by next month and would apply on facebook.com, the mobile site and mobile apps. If you are a developer, you can read the following subscriptions documentation.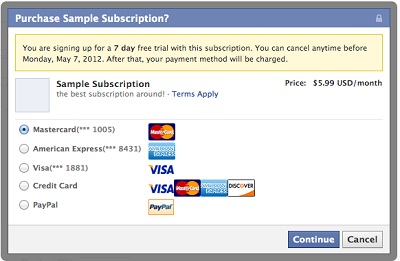 Goodbye Credits, Hello Local Currencies
Facebook is killing the social network's familiar currency which was operational since 2009, Credits, and replacing it by real-world local currencies. Facebook predicts that the transition will result a slight increase in the users' conversion rate as they'll find it more flexible and friendly.
The new local currencies payment is approaching first and foremost people from OUTSIDE of the U.S. which suppose to be enticed easier to pay for things when they have the option for a recognized local currency pricing. Currently, most of Facebook revenue is coming from the U.S. and I guess it's a basic step towards international audience.
The transition from Credits to local currencies will begin from the next upcoming months and developers will be required to update their in-app payments by the end of 2012. Users' remaining Credits balance will be automatically converted to their local country currency.
It is important to stress that the profit split between Facebook and developers (30% Facebook, 70% developers) will remain the same.