Facebook didn't started its journey as a public company as the social network folks (and many others) expected. Since the "FB" symbol began appearing on the Nasdaq monitors, its share price already dropped by over 20% accompanied with public legal accusations for not disclosing weak financial projections.
But regardless to proper disclosure, it is clear that Facebook should enable better friendly ways to monetize its giant community and especially its mobile platform. Well, the social networking company is now presenting a new monetary method for promoting posts of Facebook Pages.
The new promotion method, named Promoted Posts, is designated to grant page owners the ability to highlight their recent page's posts (statuses, photos, offers, videos and questions) fast and easy directly from the post itself, without the hassle of leaving to the Facebook ads section.
In order to promote a post, the Page's admin needs to click on the "Promote" button which appears on the sharing tool for new posts or on the post box for existing ones and then to select the desired budget. Below, the estimated reach according to the selected budget will be displayed. If the Page admin is satisfied, he simply needs to click on the Save button.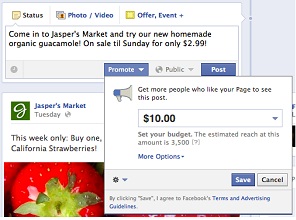 Once the Promoted Post has been activated, it will be shown on the news feed of people who "liked" the Page more than usual for 3 days from the date the post was originally created. Whenever those people will engage with the Promoted Post (comment, Like, Share), it will be displayed also to their friends more prominently.
Promoted Posts will appear on both desktop and, more importantly, on the mobile platform. The Promoted Post itself appears as any other post, just with a "Sponsored" label at the bottom. Here's an example of how a Promoted Post looks like (the "Sponsored" label marked with an arrow):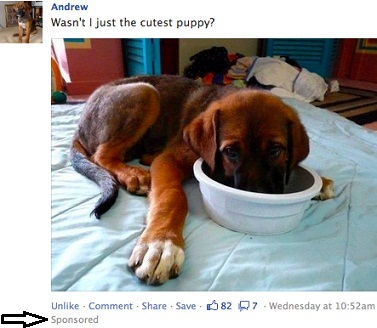 Couple of things to notice: Only for Pages with at least 400 Likes the Promoted feature is available. The selected budget is for "lifetime" (well, for three days max) and not a daily budget. For more details about the Promoted Posts feature you can watch the video on this page.