Ca-Ching! According to the latest comScore's online video report for May, for the second consecutive month Americans have watched an all time record of video ads while the general number of viewers and overall videos viewed remained essentially unchanged.
In May, 180.5 million Americans (or 84.5% of the U.S. internet audience) have watched online video contents, more or less the same as in April. Each viewer watched on average 21.9 hours of online video, a slight increase of 0.6% from the prior month.
Here are the top ten online video content properties in the U.S. for May 2012: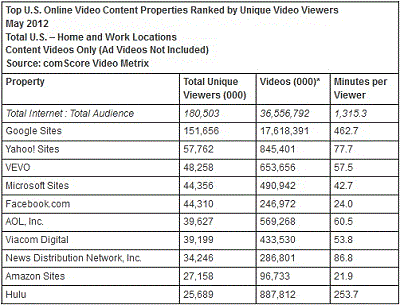 It seems that Google keeps its deliberate intentions of increasing the users' engagement in YouTube on the expense of video views. Total unique video views for Google sites have dropped by 3.8% to 151.7 million but each user watched on average over 7.7 hours of video, a rise of 6.4%.
Holding steady the second place, Yahoo had a fantastic month in terms of both video views (up 7.6% to 57.8 million) and minutes per viewer (up 5.4% to about 1.3 hours per viewer). VEVO kept its distinguished third place despite a drop of 2.5% in views with 48.3 million.
After an increase of 3.6% to 44.4 million unique viewers, Microsoft climbed to the fourth place on the expense of Facebook which remained unchanged with 44.3 million viewers. AOL is sixth with a rise of 1.8% to 39.6 video viewers and Viacom Digital is seventh after a decline of 5% with 39.2 million viewers.
News Distribution Network simply had an amazing month with an incredible jump of 26.8% in viewers with 34.2 million, climbing two places to eighth. Amazon (down 10% with 27.2 million viewers) and Hulu (down 9% with 25.7 million viewers) have landed on the ninth and tenth places respectively.
Record Of Over 10 Billion Video Ads
For the second month in a row, online video ads shows another impressive jump to an all time record. This time it's an increase of 6.3% of overall video ads served to over 10 billion. Each viewer watched on average 63.6 ads as they accounted for 1.9% of all the minutes viewing online videos.
Here are the top serving online video ad properties in the U.S.: