The web analytics research firm comScore released its monthly U.S. online video rankings report for April 2012. While most general online video viewing stats haven't fundamentally changed since the prior report of March, the number of video ads continues to break records.
In April, 180.8 million Americans have watched online videos, which is about the same as in March (-0.2%). In total, about 36.8 billion videos have been viewed, almost flat (-0.3%) from the previous month. Each viewer watched on average about 21.8 hours of online video (yep, no change from last month).
Here are the top online video rankings by visits for April 2012: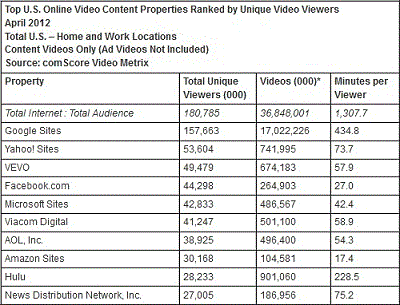 Google sites (mostly YouTube) are obviously leading the way with 157.7 million viewers, an impressive jump of 7.9% from last month. Yahoo sites are still second although a drop of 10.7% in viewers with 53.6 million. VEVO with 49.6 million viewers (-3.6%) and Facebook with 44.3 million (-1.7%) holding the third and fourth places respectively.
Microsoft sites generated a boost of 4% in video viewers with 42.8 million, climbing three places to fifth. Viacom Digital lost 6.7% of last month viewers with 41.2 million and dropped one place to sixth. AOL also fell by one place to seventh after dropping by 10.9% viewers with 38.9 million.
Amazon sites is new to the top 10 online video rankings with 30.2 million viewers in the eighth place, Hulu is ninth after a drop of 9.9% with 28.2 viewers and closing the list is the newcomer News Distribution Network with 27 million viewers.
All Time Record Of Total Video Ads
April mostly been characterized with an all time record of nearly 9.5 billion video ads served and a total of 3.9 billion total ad minutes as each viewer watched on average 59.8 ads. Online video ads had a reach of 51.7% to the total U.S. population, up from 51.2% in March.
The two leading video advertising companies are Hulu, which still holds the ad throne with 1.6 billion video ads, while the second Google is closing fast from behind with 1.3 billion video ads served thanks to the recent changes it made. Here's the full list of the top video ad properties for April 2012: