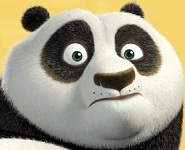 Remember the days when the Panda was the scariest animal at the Googlezoo and the Penguin was merely a sympathetic aquatic creature? Although nowadays the Penguin transformed into the ruthless traffic-eating king of the jungle, during this weekend the Panda showed it still very much here.
Google has just confirmed in a Tweet that indeed there was a Panda update 3.7 (if you keep follow the numbers) during the past weekend, as I predicted (yep, a little brag), on Friday June 8th. Google mentioned that it affected less than 1 percent of searches in the U.S and about 1% of worldwide searches.
However, I already begun suspecting something was up almost immediately after the Panda data refresh…
Pretty surprisingly, incoming traffic from Google to my new site GlancingWeb (launched on April) has spiked on Saturday June 9th. Generally, traffic during weekends tends to be much lower than on the middle of the week, therefore I knew it probably relates to some algorithm update. Here's GlancingWeb's incoming traffic from Google graph:

As you can see, traffic from Google on June 9th has almost doubled than the highest trafficked day until then (on June 7th) and nearly tripled than previous days this month. This is pretty interesting because it just might mean that the old Google time devaluation factor, also known as the Google Sandbox, has been taken over by the Panda.
I suspect that Google has eliminated the Sandbox effect or at least significantly devalued it, and after a new site receives its first Panda rank or score, it begins to receive traffic accordingly.
Obviously, most new sites will initially receive low Panda rank/score and therefore won't get a lot of love from Google at first but it also means that really good sites with high-quality content could begin rank well after shorter period of time and not like the minimum 4-8 months (and sometimes more) of the Sandbox.
In any case, Google proves again that it loves to make those little updates during the weekend, when things are a bit calmer and perhaps when the search bloggers are less active… After the weekend is over and things settles down a bit, reactions inclines to be more moderated.
This current Panda update is coming about six weeks since the last confirmed update on April 27th (Panda 3.6) in one of the longest time gaps between two updates, which I have to admit I found as somewhat disappointing. More frequent updates means more accurate and better results, as it offers faster recovery for sites which were hit and quicker demotion for low-quality sites.