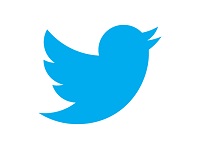 Since couple of weeks ago Twitter reported to earn no less than $1 billion in ad sales revenue by 2014, a bunch of news stories and reports related to the little bird micro-blogging social network have been published. Here, I'll try to summarize all those recent stories.
New Logo, Trademark Policy
The fellows at Twitter felt it was a time for some refresh with the brand's familiar logo and decided to introduce some iteration to the bird logo. Essentially, the bird logo hasn't been changed drastically but only it's now facing more to the upper right direction than before (new logo image at the top).
Some would claim that after the giant growth Twitter experienced in the last few years, the new logo perhaps reflecting the company's raising-its-nose snobbish approach towards other social networking services. Or maybe the bird is puffing out its chest? Either way, they got all reasons to do so.
Twitter also used this opportunity to update the company's trademark and content display policy where publishers can find how to use appropriately their logo. On the page, publishers can find a set of logos to download and usage guidelines for it such as to allow at least 150 percent buffer space around the bird and not to change the bird's direction.
The new policy also emphasizing that people should remember capitalizing the "T" if writing "Twitter" or "Tweet". Pretty ridiculously pompous if you ask me, god forbid you won't mistakenly write "to tweet" (NO…!!!).
400 Million Tweets a Day, Mobile Explosion
Twitter CEO Dick Costolo provided some inside details about the social networking site usage in an interview at The Economist's Ideas Economy: Information 2012 event last week- Users today generating over 400 million Tweets each day, about 18% increase compared to a month ago (from 340 million Tweets).
But even more interestingly, Costolo revealed that in some days the network's mobile revenue surpassing the network's desktop revenue as mobile users also proved to be more engaging. Pretty impressive when considering that Twitter's big sister Facebook still struggling to monetize its own mobile platform.
Couple of days after the event, Twitter also Tweeted an interesting stat about its users:
60% of our 140 million active users access Twitter through mobile – up from 55%. #Twitter4Brands

— Twitter Advertising (@TwitterAds) June 7, 2012
In days when smartphones and tablets sales are exploding, I'm not surprised that most of Twitter users are now mobile.
Richer Facebook-Twitter Integration
While the ability to connect the user's Twitter and Facebook accounts has been around for some time, lately it has been drastically improved. As The Next Web first noticed, posting to Facebook through Twitter now includes richer media posts (photos, videos), hashtags (#) and username mentions (@).
If you already been using Facebook-Twitter integration, in order to allow the new improvements it appears that you'll have to disconnect the accounts' connection and reconnect them back again after granting the new permissions. To learn more, you can read the following support page from Twitter's Help Center.
New T.V. Ad
Twitter started to run lately its first ever T.V. ad campaign which promotes its newly collaboration with Nascar. In the first commercial from a series of ads, the driver Brad Keselowski is sharing a photo to his Twitter account at a beginning of a race by using his smartphone.
The commercial was broadcasted during 2012 Pocono 400 Nascar race in which Brad Keselowski ended on the disappointing 24th place. Maybe he should focus more on racing and less on Tweeting…