Hey little bird… Come here… Do you want to eat some bread? Here you go… Wow, you eat fast! Very fast! More? Yeah, I got more… I'll bet no one ever thought that a little bird like you can eat so much… Say, were you that BIG when you first came here?
Twitter, the little bird, is not so little anymore. With over 140 million very loyal and super-active users it is one of the largest social communities in the world which just keeps on growing and "eating" more and more (eating=making money).
On a recent study by Pew Research Center's Internet and American Life Project that surveyed 2,253 Americans above age 18, it has been revealed that there is a small increase in Twitter adoption by U.S. adults since last year and there is a big rise in Twitter's daily activity.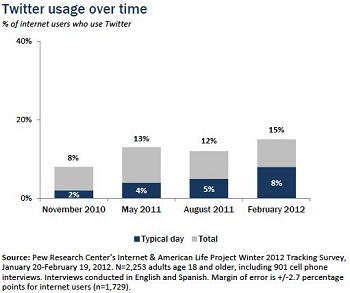 According to the study's data, On February 2012 an overall of 15% U.S. adults were using Twitter on a monthly basis. That represent an almost double the people who used Twitter on November 2010 (8%) but just a small rise since May 2011 (13%).
The much better news for Twitter are arriving from the micro-blogging social network users' daily usage pattern. On February 2012, 8% of U.S. adults were using Twitter daily. That is quadrupled since November 2010 (2%) and double since last year (4%-5%).
The giant boost in daily users' activity can be explained by the many improvements to the network's platform on all formats (site, app, mobile web) and, as Pew also pointing, by the rise of smart mobile devices where users demonstrates high probability of using Twitter.
But Twitter isn't just growing its user-base and daily activity.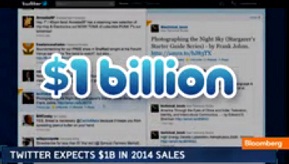 According to a new story on Bloomberg which cites two super-secret inside sources, the company expects a much faster increase of ad sales revenue by 2014 than it was projected in the past, leaving dust to prior estimations.
The sources are saying that Twitter forecasting to generate $1 billion sales revenue in 2014, by the least. This is pretty freaking amazing when considering prior reliable estimations such as eMarketer's which predicted about half of it in 2014 ($540 million in ad revenue).
These higher revenue projections bring us back to mobile and suggests that Twitter probably doing something right in this area. While other social networks like Facebook are struggling with monetizing their mobile platform, it seems that Twitter is one step ahead with its mobile monetization efforts.
It is important to say that these figures obviously aren't final and on the quickly-changing tech world today nothing can be certain. Just ask those who rushed to invest at Facebook right as it went public (ouch).