Google keeps consolidate its sites' analysis related products into the company's tracking and measuring tool, Analytics. After the company integrated Website Optimizer as Content Experiments, it now also brings the browser size analysis tool into its own section on Analytics.
On a new post on the official Google Analytics Blog, the company announced about the move, stating that the new Browser Size tool will begin appearing on the users' account on the next few weeks (it already operates in mine) while the old Google Labs' Browser Size tool will go down permanently on the beginning of July.
The Browser Size tool basically allows site owners to see how different visitors can see the website on their browser, based on their screen size and resolution. By using this tool, site owner could understand how many of their visitors can watch different size portions of their page.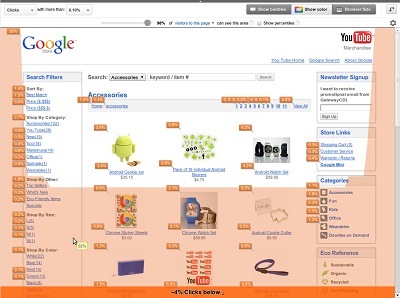 The tool is available under the "Content" tab and then the "In-Page Analytics" section. On the page that opens up (your own site homepage), you can choose "Browser Size" where you'll see the percent of visitors that see different portions of the page and what exactly they see.
If you check the "Show percentiles" box, you'll see how the different visitors' layout percentage are dividing on the page. Note that you can adjust the page layout alignment (left, center, right) by using the small preferences icon on the top right corner, if the tool doesn't fit your page layout.
This tool can turn out to be tremendously useful especially for site owners who didn't optimize their site for mobile devices which obviously have smaller screen sizes and lower resolution. Nowadays, mobile traffic is surging and serving incompatible pages' layout for those visitors is certainly a giant waste.
Another crucial insights that the Browser Size tool could offer are if the page is showing too many ads above the fold, which can lead to Google's Page Layout algorithm penalty– Whenever Google identifies that there is too much ads real estate above the fold, the site's search rankings might be demoted.
This addition is another logical step to bring all the site's analysis services of Google into Analytics which can surly assist site owners to identify, track, measure and improve if necessary their website.