In times where Facebook Pages becomes a key aspect for many small, medium and large businesses all around the world and one of the main connecting channels between those businesses with over 900 million people, Facebook knows it has to offer some useful management tools for Page owners.
And while the social network provided recently additional monetary promotion features, now it is beginning to roll out few free administrative tools to assist businesses to operate their Pages smoother: The possibility to assign five different admin roles and the option scheduling in advance to publish a post.
Assigning Roles
Many businesses holds a varied staff to operate their Facebook Pages. The problem was that not each admin should have an equal access to all the Page's tools, features and options. I'll bet that many business owners were concerned from the unnecessary full privileges their admins received.
But now, Facebook finally launching Admin Roles– The option to assign five different admin roles (manager, content creator, moderator, advertiser and Insights analyst) where each role includes only a certain type of authorized abilities to do his specific work.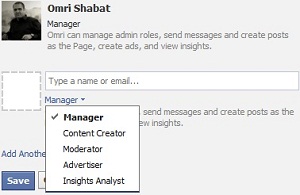 To assign admin roles enter your Page, click on "Edit Page" and choose "Admin Roles" from the left sidebar. On the dedicated box type the name or email of the person and from the drop-down tab below choose his/hers assigned role. After you click on the "Save" button, the person will be granted the Page's access according to the role.
Here are the full specifications of each admin role and its specific abilities: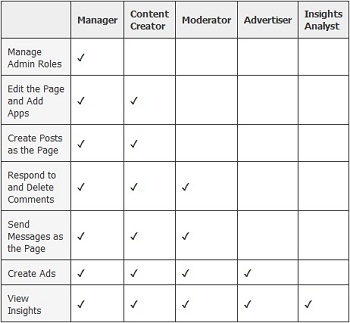 Scheduling In Advance To Publish a Post
Another nice addition that was only available before by using third-party tools, is the possibility of scheduling to publish multiple posts up to six months in advance and as long at least 15 minutes separate between them. It is also possible to publish posts in the past to appear on the Timeline.
To do so, enter your sharing tool box and click on the little clock icon at the bottom left corner of the box. Choose the date and the hour you wish it will be posted and click on "Schedule".

This can be a very useful feature for businesses which until now schedule upfront posts by using third-party tools, as studies have indicated that they are reducing significantly the level of engagement.