Twitter understands that in order to accelerate its growth to Facebook-proportion rates and to attract more users, it has to make people feel special and Unique. Twitter knows it has to customize their social networking experience so they would find the right contents and people to connect with.
That is why couple of weeks ago the micro-blogging social network presented new improved algorithms for its Discover tab- So users could find the top most suitable stories FOR THEM. Now, the company presents new personalized possibilities to find the right people to follow.
Twitter announced that it is beginning to test new interesting feature for newly joined users in a few selected countries. Those new members will be taken to a page where a list of suggested people to follow will appear on the left and all their recent Tweets well appear on the right side.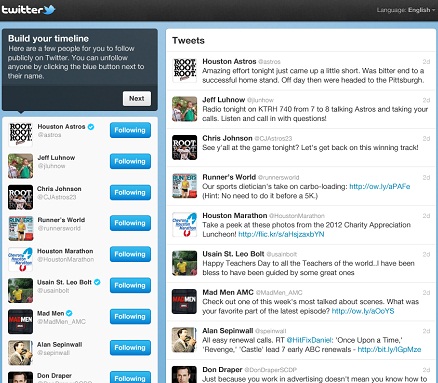 But how would Twitter suggest people to follow when they have just joined the service? This is where it gets interesting: Twitter will collect data from EXTERNAL websites which have implemented Twitter's plugins (buttons, widgets) for the last ten days and suggest accounts to follow accordingly.
For example, Twitter will identify that user A that visited a certain site began following user B. When a new user will join Twitter and Twitter will identify he also visited the same site as user A (during the last ten days), the service will suggest him to follow user B as well.
But what about existing users that would also like to receive personal recommendations? Some current users would start to see tailored suggestions on the "Who to follow" box (see image below) or they can enter this preview page.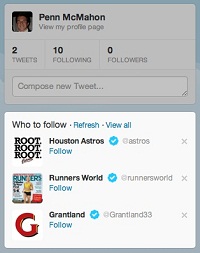 Twitter probably understand that many people wouldn't like the idea that the social networking company is following them across the web, so the company also added in the post that it will support the Do Not Track initiative which can block third-party services from tracking them online.
Currently, it is possible to use the Do Not Track technology on the Firefox, Internet Explorer or Safari browsers. Google Chrome also offers some of the Do Not Track technology block features.