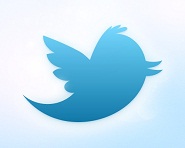 Among the many new features and new design Twitter presented on December last year, it also introduced the Discover tab. In this new tab, users were suppose to find contents that are tailored especially for them based on their interests, locations and more.
But pretty quickly it turned out that there was a big difference between what was suppose to appear and what is actually appearing on the Discover tab. I tried few times in the past "to discover" contents designated for me but all I've found were pretty poor contents on the verge of spam.
Yesterday, Twitter posted that they are rolling out a meaningful improvement to the system that powers the Discover tab, that includes new signals for better personalization of the contents which will appear for each user individually. Oh, and Twitter are saying this will be magical…
So I've tried the new Discover tab few times since then to witness the magic myself. From what I've experienced I can confirm that there is big improvement. For once, all the real occasional heavy spam has been completely eliminated which is always good news if you don't want people hitting the back button instantly.
Additionally, now below each story the user can see WHY the story is there to begin with. For example it could be a link from a popular Tweet of one of the accounts the user is following or because many Tweets from different accounts the user is following contained the same link.
Let's make a live test from our own WorkingHomeGuide Twitter account. Here are the top 3 stories that appeared on our Discover tab at the moment I was writing this post: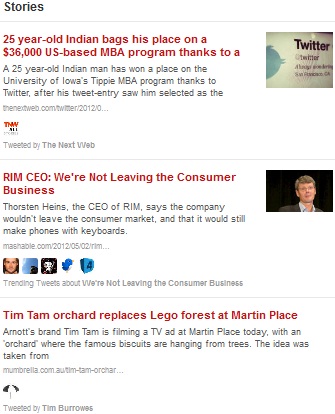 It is important to emphasis that our account is mostly technological-oriented and I have to admit that the Discover tab produced pretty good stories that aligns with our orientation:
25 year-old Indian bags his place on a $36,000 US-based MBA program thanks to a tweet (from The Next Web)
RIM CEO: We're Not Leaving the Consumer Business (from Mashable)
Tim Tam orchard replaces Lego forest at Martin Place (from mUmBRELLA)
All three posts were just recently posted and although the third post isn't so tech-related, it was still an interesting one. Pretty nice!
However, I still expect more. My ideal Discover tab will show me all the recent hottest stuff that can interest me from my Twitter's network. I would expect it to be my own social newsletter that I could open at any given moment and find out what's trending in my social world. Sort of a Twitter version of Techmeme.
Hopefully, Twitter will continue to improve its personalization algorithms and signals and maybe one day in the near future will get to my ideal Discover tab.