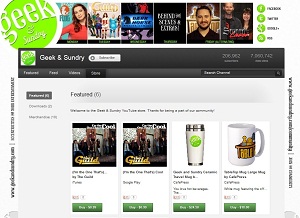 YouTube really wants that its partners will make more money. It want it so much that last month it opened up its Partner Program for everyone so they will be able to monetize their videos. After all, partners' success to generate income also being reflected in Google's pockets…
Now, the popular video site and its wealthy owner are opening another revenue stream possibility for all. YouTube posted that from the next upcoming months, all partners will be able to monetize their channels through the Merch Store, which until now was only available for music artists partners.
If you aren't familiar with the Merch Store, then let me give you a short summary: It is additional "Store" tab under the user's channel where he/she can promote related products from Amazon, iTunes, Topspin, Songkick and Google Play. The user receives an affiliate commission for each sale and of course YouTube also takes its undisclosed cut.
YouTube also announced on a new merchant option to promote products from, the popular merchandise retailer CafePress, which specialized in unique personalized products such as custom t-shirts, posters and mugs. Alongside all other merchant options, users have a pretty heavy arsenal of products from varied sites they can promote.
In order to be eligible to feature the Merch Store over the channel, the partner must have a YouTube account in good standing which basically means to link it with the partner's AdSense account and not to publish any video that infringe anybody's else copyrights. Also, the partner needs to have an active account on each site for its list of products.
Although the Merch Store is intended to sell the user's own products from the different merchant sites, YouTube doesn't completely forbid promoting other people's products. However, it doesn't encourage it either and may remove merchandise or even shut down the partner's Merch Store if the products are unlicensed or unsuitable.
Note: The payment for the partner is under the responsibility of the affiliate merchants and not under YouTube's!
If you wish to see examples for channels with the Merch Store tab, you can check out Pomplamoose, Geek & Sundry (screenshot above) and DeStorm (screenshot below).