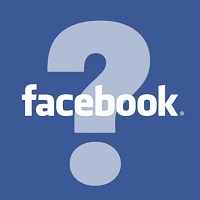 Under pressure. Facebook is under some pressure on the final pre-IPO stages. Just a few days before the social networking company's expected public offering, couple of negative PR stories might raise some doubts in potential future investors' minds. The tension levels are peaking as big Friday arriving…
Just lately, to answer the apparent high demand Facebook has raised its shares' price range and added more shares into the public offering pool. But now, few reports are doubting on the company's ability to increase ad-revenue and in a recent poll nearly half of the participants have stated that Facebook will "fade away".
General Motors: Facebook Ads Not Working For Us
A fresh story on the Wall Street Journal is revealing that one of the largest auto maker companies in the world, General Motors, intends to stop completely advertising on Facebook after it concluded the ads on the social network have just a small effect and don't really help to, well, sell cars.
GM spent in 2011 only an estimated $10 million on Facebook ads and this lost budget itself certainly won't harm Facebook total revenue, which in 2011 summed at $3.7 billion. But this act has a more conceptual meaning and surfaces the question of Facebook advertising effectiveness. These are pretty serious doubts for a company that 80%-90% of its revenue is based on ads.
It is important to mention that GM still plans to keep its non-ads Facebook presence. GM spends about $30 million a year to maintain the brand's Facebook pages and to create contents on a daily basis. However, those $30 million don't goes into Facebook pockets but to marketing agencies that manages GM's Facebook presence.
Falls Behind Google, Doesn't Focus On Marketers
But those weren't the only bad indications about Facebook ads. In a recent research by the search engine marketing software and services company WordStream that compared Facebook advertising to Google Display Network, it turns out that Facebook falls short in each parameter examined (reach, growth, performance, targeting options, ad formats).
Many advertisers and marketing agencies are relying on these kind of studies and when they see such a clear win for an ad network on another (Google Display Network over Facebook ads in this case) they'll shift their advertising budgets towards what appears to be much more effective for their business.
Nate Elliott, an analyst on Forrester also raised his concerns that Facebook doesn't pay too much attention to marketing on a blog post. He essentially claims that the company, led by its advertising-loathed CEO and founder Mark Zuckerberg, doesn't focus on marketers and isn't developing advertising products as it should.
Poll: People Hardly Click On Facebook Ads, Facebook Will Fade Away
On a poll conducted by CNBC, which sampled 1,004 participants older than 18 years of age, 57% have answered they have never clicked on ads or Sponsored Stories on Facebook. In addition, 26% stated they hardly ever click on ads or Sponsored Stories. These are pretty discouraging findings that may distance advertisers that obviously looks for more engagement.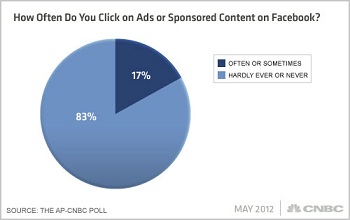 The poll managed to produce even more pessimistic view on Facebook future: While 43% answered they believe Facebook will continue to be successful over the long term, 46% have stated that it will "fade away" as new things come along.
Even though there are many doubts about Facebook ad effectiveness and even dark speculations on the company's future, it is important to remember that Facebook benefited from a rapid growth which not always aligned with the company's ability to offer sufficient marketing and advertising services for this monstrous user-base and growth.
Eventually, the big challenge is to create great products people would enjoy, a goal that Facebook among its 900+ million users obviously achieving. Now the Facebook folks have to find better effective ways to monetize their successful products. Soon enough, they'll have many shareholders to think about.