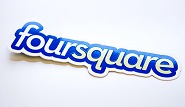 Location-based social networking services have been widely adopted by local business owners as they offer costumers information, deals and directions in real-time. Now, The biggest location-based social networking player, Foursquare, wants to make the lives of those local businesses easier.
Foursquare has announced on a blog post that it is now allowing U.S. businesses to verify their shop's location immediately without waiting, for the symbolic sum of $10. Until today, businesses could only verify their legitimacy through mail (NOT email, but this old thing with envelopes and stamps) in a process that would take few weeks to complete.
Once the verification stage is over, businesses will be granted access to Foursquare's business tools which includes the possibility to offer customers specials and promotions, real-time statistics and the option to edit their business page. The old free verification method by mail still exist if you are willing to wait a bit (and you're $10 short).
In order to claim your business, simply click on the "Do you manage this venue? Claim here" link on the venue's page. Businesses within the U.S. will see the image below and should follow the instructions. This option still doesn't available for non-U.S. businesses but soon it suppose to open up internationally.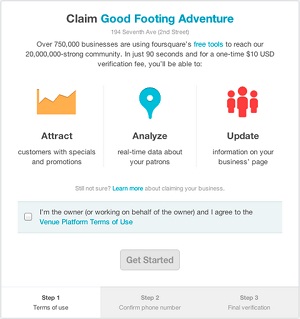 Foursquare, that celebrated 20 million users couple of weeks ago, stating that now there are already 750,000 businesses that using the service's merchant tools. Relatively to the users' growth, businesses' growth is much slower- Almost a year ago, Foursquare posted that it has over 10 million users (+100% increase today) and 500,000 businesses (+50% increase today) in its community.
If you are looking for the reasons behind this new verification option, don't think it's about increasing the company revenue. Even if ALL current businesses would have payed the $10 it would still only sum up to $7.5 million, which is nothing for this kind of scale companies. For revenue, Foursquare probably relying much more on its reported ad platform that will be launched soon.
So if it's not about the money, what is it? First of all, like any other popular social networking service, Foursquare also suffers from the "evil forces" online. The $10 fee would probably keep many of them away as spammers/scammers works on many channels simultaneously so they are only focusing on free possibilities.
Second, it offers legitimate businesses the opportunity to get quick access for Foursquare's merchant tools that can pay off much more than $10. Additionally, I assume that the old mailing verification process which takes several weeks, probably deterred many business owners and this option can attract them.
One trend that worth to keep following in the future to come, is the adoption of location-based social services by local business owners. In addition to this option by Foursquare, Facebook also slowly entering this game with its Offers product and Groupon just recently stated that Groupon Now! sold 1.5 million deals in less than a year. Just saying.