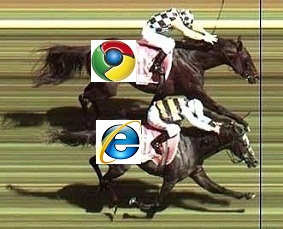 The days when Microsoft dominated almost completely the web browser arena with Internet Explorer are long gone. In the last few years, IE market share has been slowly declining, losing more and more shares to its main rivals Chrome and Firefox.
But although its constant descending, it always appeared that IE is still holding the crown firmly. That is, until the last few months. More or less since the beginning of the year, IE is no longer seeing its competitors as little dots on the horizon, but as serious contenders which threatening the crown.
Last month I reported that Chrome is just a few steps from taking over the throne and the way things were going I predicted it will happen at some point over the upcoming months. Now, according to new data it appears that in some places around the world, it already happened.
According to a fresh report by Pingdom which aggregated data from StatCounter from the first three weeks of April (April 1st until April 22nd), IE is the leading web browser only in two out of six world regions.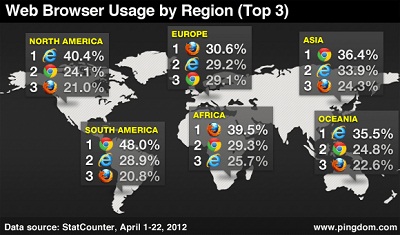 Even though the report is pretty awesome, I wanted some real numbers! Therefore, I took this report stats and combined them with the estimated number of internet users according to Internet World Stats which collects its data from few different reliable sources. Here is the web browser market share with estimated number of users by region:
North America – 273,067,546 Total Internet Users
IE- 40.4%, 110,319,289 users
Chrome- 24.1%, 65,809,278 users
Firefox- 21%, 57,344,185 users
Europe – 500,723,686 Total Internet Users
Firefox- 30.6%, 153,221,448 users
IE- 29.2%, 146,211,316 users
Chrome- 29.1%, 145,710,593 users
Asia – 1,016,799,076 Total Internet Users
Chrome- 36.4%, 370,114,864 users
IE- 33.9%, 344,694,887 users
Firefox- 24.3%, 247,082,175 users
South America – 235,819,740 Total Internet Users
Chrome- 48%, 113,193,475 users
IE- 28.9%, 68,151,905 users
Firefox- 20.8%, 49,050,506 users
Africa – 139,875,242 Total Internet Users
Firefox- 39.5%, 55,250,721 users
Chrome- 29.3%, 40,983,446 users
IE- 25.7%, 35,947,937 users
Oceania – 23,927,457 Total Internet Users
IE- 35.5%, 8,494,247 users
Chrome- 24.8%, 5,934,009 users
Firefox- 22.6%, 5,407,605 users
Worldwide – 2,190,212,747 Internet Users
Chrome- 33.9% 741,745,665 users
IE- 32.6% 713,819,581 users
Firefox- 25.9% 567,356,640 users
This is interesting… Is it possible that Chrome already surpassed IE? Too close to call- Data from all sources can be very inaccurate and 1.3% gap is still a very small margin to determine decisively. Also, the data from StatCounter are reflecting a small win for IE by 1.8% gap.
But the trend is obvious- Probably in the next month or two, we would crown Chrome as the new browser king.