The year didn't started so well for Chrome. Right at the beginning of January it was in the middle of a paid links scandal which eventually was leading to a demotion in Google's search results. Presumably, this penalty was suppose to harm the constant growth of Chrome or to slow it down significantly.
Now, after the penalty was lifted (Chrome ranks fourth when searching for [browser]), it is time to see what is the current state of the web browser market share and what effect (if at all) the scandal had over it. Let's go over the data of some of the best analysis and tracking tools online:
StatCounter (March 2012)
According to statCounter's data, the whole paid links story didn't really changed any of the traditional prominent browser trends of the past 12 months (to say the least)- Internet Explorer's share continues to drop, Chrome keeps on growing and Firefox holding stable. Here are the current share stats with the changes since January:
IE- 34.75% (relative change since January, -8%)
Chrome- 30.92% (+9%)
Firefox- 25.02% (+1%)
Safari- 6.73% (+1.7%)
Opera- 1.8% (-7.7%)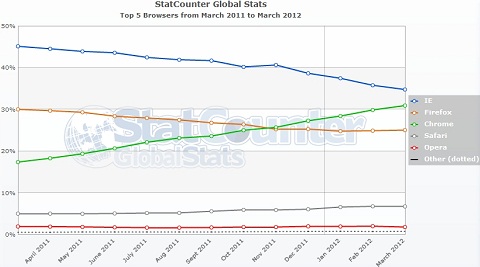 NetMarketShare (February 2012)
The stats from NetMarketShare are pointing at a strong stabilization of all browser's share, as the market almost froze and waited for Chrome's penalty to end before going forward. The biggest mover (up) was Safari but it only holds little market share and all other changes are minimal and nearly unnoticeable.
IE- 52.84% (-0.2%)
Firefox- 20.92% (+0.2%)
Chrome- 18.9% (-0.2%)
Safari- 5.24% (+7%)
Opera- 1.71% (+2.4%)
Other- 0.39% (-40%)

Clicky (March 2012)
Clicky's data are showing that the demotion of Chrome's search rankings didn't affected its constant growth at all. In fact, it managed to grab meaningful market shares during that period on the expense of its bitter rival, IE. It is important to mention that Clicky's stats tends to be traditionally much more volatile than the others.
IE- 33.93% (-13%)
Chrome- 29.2% (+17.3%)
Firefox- 24.9% (+1.7%)
Safari- 10.32% (+0.8%)
Opera- 1.56% (+20%)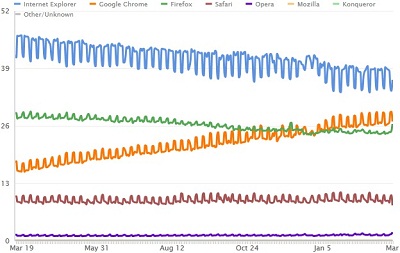 Summary
It appears that Chrome's 60 days Google penalty have passed without any actual negative effect on Chrome and over the web browser market share trending. Now, it seems very likely that IE would lose its first place at the browsers market until the end of the year (probably much sooner), after at least 10 years of holding the crown.
Game of thrones indeed…