YouTube wants that the videos users are uploading would be more professional and after last month it introduced a feature that can automatically fix and improve the quality of how the video appears, now it is "attacking" another front of the video- Its soundtrack.
The most popular video site (you can't really argue with nearly 150 million monthly viewers from the U.S. alone) is making some major improvements to the site's audio editor tool which now could offers greater possibilities for users to upgrade the soundtrack of videos that plays in the background.
YouTube's Bob Glickstein has announced on a blog post about the added improvements: Enhanced songs library that now includes more than 150,000 free tracks, easy tuning the balance between the original video's audio and the soundtrack, and a new friendly tool's interface (see photo).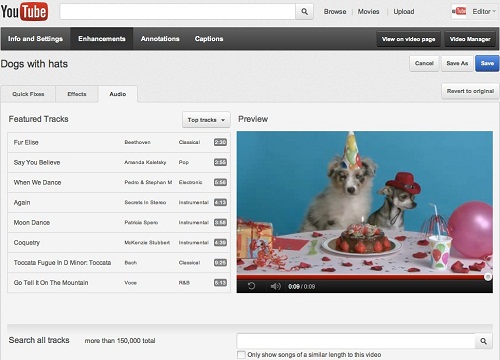 To try the newly upgraded audio editor tool, enter your account's video manager, choose the desired video to edit, click on the "Enhancements" tab and choose the "Audio" section. There, you will be able to search a track for your video (by category or the search box), preview how it would fit in and republish the video.
After you will choose a track, you will see below the video preview a small bar where you could adjust the level of balance between the track and the video's original audio. This balance is scaled is from complete replacement of the original audio by the track to subtle play of the track in the background.
One of the greatest advantages of this tool in general, is that it allows to add audio tracks to the video legally without worries it will be removed by the site due to copyright infringements conflicts. Although the library obviously doesn't containing every song, 150,000 tracks are still a fair varied amount that will enable the video soundtrack to remain unique.
Another thing I hope those additions will achieve, is to raise the awareness of how important is the quality of soundtrack to a video. Just imagine how this video would be like without its soundtrack. Probably much less emotional, right?
In any case, this is another effort by the folks at YouTube to help creators to make more professional videos with on-site editing tools and features. You can see how this whole upgraded audio editor works in the following video: