The internet is continuing to grow at an enormous pace and taking bigger parts in people's lives. Not only that more people are getting online as time passes, but they are also spending increasing periods of time on the web. This is also being reflected very accurately on the internet ad revenue.
The Interactive Advertising Bureau (IAB) released lately its annual report about the internet advertising industry for 2011. The report is revealing that between 2010 and 2011, online advertising revenue of companies has peaked to its highest point in history (so far).
Total Annual Internet Ad-Revenue
In 2011, the total ad-revenue on the web has crossed the $30 billion mark and climbed to $31.7 billion. That represents nearly 22% increase within a year and the highest yearly growth rate over the past 5 years, suggesting that the internet industry has fully recovered from the financial crisis.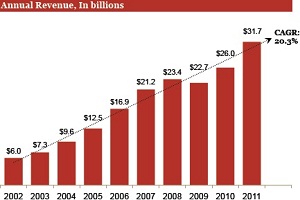 In addition, the report also indicates that the fourth quarter of 2011 produced the highest ad revenue for a single quarter ever, almost $9 billion. When considering all these stats combined, it most likely that 2012 will generate new heights for the internet advertising industry.
Internet Advertising Compared To Other Media Forms
The advertising revenue growth of the internet has easily outranked in 2011 any other media form and actually, also in any other year since 2005. In 2011 internet's revenue was only second to the ad revenue of broadcast TV ($38.5 billion), surpassing cable TV ($30 billion).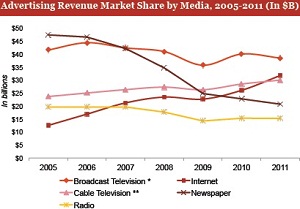 We can see that at the same time the internet revenue is increasing, newspapers revenue suffers from a steep decline. Where in 2005 the newspaper industry generated about $45 billion, in 2011 it shrunk by more than half to $20.7 billion. Technology is indeed killing the print media…
Internet Ad Revenue Share By Format
As I already reported in the past, search is still the online advertising king. In fact, between 2010 and 2011 search only reinforced his dominance rising from 45% share ($11.7 billion) to 47% share ($14.8 billion). Display ads revenue grew from $9.6 billion in 2010 to $11.1 billion in 2011 but went down from 23% share to 22%.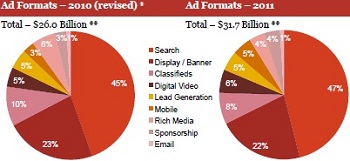 It is important to note mobile ad revenue which jumped in 2011 by about 2.5 times as much as in 2010- From $0.64 billion to $1.6 billion.
Internet Revenue Top Companies Concentration
Even though the internet advertising industry is advancing fast, it is still mostly concentrated around the top 10 companies which were responsible for 71% of the total ad revenue online over the fourth quarter of 2011. Is is also amazing to see that the top 50 companies are "leaving" just 10% of the web ad revenue for the rest.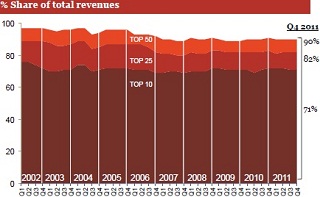 By the way, the top 5 internet companies are Google, Microsoft, Facebook, Yahoo and AOL.