Alongside the gradual growth of Pinterest, it has been attracted more and more spammers. Last month, after the wide-scale of the spam phenomenon has been revealed Pinterest began acting against it. However, back then it appeared that the company's fighting efforts aren't effective.
Now, when Pinterest is the third most popular social network (at least according to one report), it seems that the image-based social network has decided to take its battle against spam into the next level. The main target- Pins with affiliate links.
Over the past week or so, I've witnessed an increasing amount of reports across few affiliate communities, claiming that the revenue from Pinterest has declined drastically. Most (if not all) affiliate marketers which saw a drop in profits were using Amazon Associates (Amazon's affiliate program).
So I've decided to investigate this issue furthermore myself. At first, I simply examined a few pins from affiliate marketers profiles which I already knew that they includes links from Amazon affiliate program. I discovered that ALL of them are leading to a Pinterest page that contains the following message: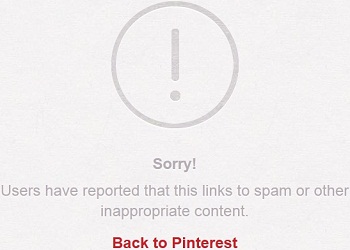 If you want to see it for yourself, you can simply try entering the links on this pin or on this one. By the way, the person who posted those pins IS NOT a spammer but a legitimate affiliate marketer (yes, many of them do exist!) which sadly falls into the same category of spammers on Pinterest eyes.
The problem of many legitimate affiliate marketers is that their occupation is automatically associated with spam, even though that for many them this isn't the case. But the sad truth is that the affiliate marketing industry is so full with spam that it is impossible for companies like Pinterest to distinguish between a spammer and a legitimate marketer.
Anyway, I continued to examine affiliate links on Pinterest from other affiliate programs. From what I've found, the only affiliate program that been banned is Amazon's. Other links from ClickBank, Commission Junction and Linkshare seems to be still working. However, Amazon Associates was definitely the most prominent affiliate program on Pinterest.
Additionally, according to few marketers reports, Amazon's affiliate links also don't work with shrinking URL services such as TinyURL and even with 301 redirect links from the marketer's own domain. So it looks like that Pinterest is currently focusing on taking down only affiliate links of Amazon.
But I'm sure it's just the beginning and soon enough Pinterest will also go after other affiliate programs because it doesn't seems logical that they have a problem just with Amazon links… You can also find a clue for Pinterest intention to take down completely affiliate links on a post discussing the spam issue from last week:
In most cases, spam accounts on Pinterest create pins with misleading links and follow many people in hopes that you'll visit their boards.
What I found funny from this whole story is that Pinterest itself was changing links of users into the company's own affiliate links without disclosing to generate revenue from commissions just until couple of months ago. I'm pretty sure that was pretty "misleading" as well…