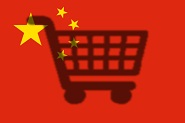 I think its fair to say that all major internet companies have their eyes on China, in many ways more than any other market in the world. When considering that the web is gradually entering to the lives of the country's more than 1.3 billion people, it shouldn't come as a surprise.
Now, a new report published by the Boston Consulting Group (BCG) is emphasizing how enormous is the growth of the internet users population in China and how in the next few years it will become the largest online retail market worldwide.
China's Internet Users Population
First, let's talk about the Chinese internet users population compared to other markets. The BCG report is showing that already in 2011 China had the biggest number of internet users without any real rival- Last year there were 513 million Chinese internet users, more than double as in the U.S. (245 million).
The BCG predicts that by 2015 the gap will just grow bigger when the Chinese internet population will increase by about 37% to 701 internet users, while the U.S. internet population will increase just by 10% to 269 million internet users. The reason is obviously related to the fact that in 2011 the web penetration in the U.S. already reached for 80% where in China it is less than 40%.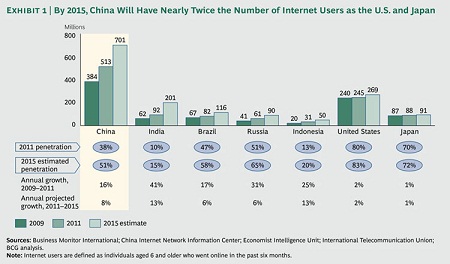 Other growing internet users markets which worth mentioning are India that by 2015 predicted to have more than 200 million internet users and the Brazilian market that estimated to have 116 million online users that year.
*Internet users are people who went online in the past six months and are more than six years old.
China's eCommerce Market
For online retailers, the number of local internet users is less important than the actual amount of online spending. And while in recent years the Chinese online users didn't spend as much as in other markets (relatively to the population), by 2015 it predicted to change as the Chinese will demonstrate a more "Western" spending behavior patterns.
Where in 2011 the Chinese eCommerce spend totaled at nearly $120 billion, by 2015 it estimated to more than triple itself to an amazing number of $364 billion! What is scary is that even then, eCommerce sales will constitute only as 8% of the total Chinese retail market, suggesting that these numbers have a much more growing potential.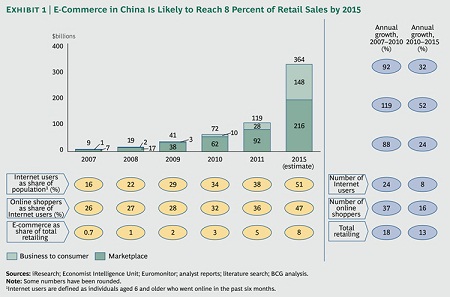 For comparison, according to a research from Forrester ($499 paid report), the U.S. eCommerce consumers have spent in 2011 much more than the Chinese- Slightly over than $200 billion. However, the U.S. would lose its first prestigious place where by 2016 online retail spend will reach for $327 billion, which is less than China's 2015 estimated numbers.
China's Biggest eCommerce Players
The most dominant player in the Chinese eCommerce industry is definitely the Alibaba Group. It holds web properties such as Alibaba.com which estimated to control more than 50% of the business-to-business share, Alipay which is the Chinese PayPal and Taobao.com which has almost complete domination over the Chinese consumer-to-consumer market (like eBay).
Other major eCommerce companies operating in China are Amazon (Amazon.cn), 360Buy, Yihaodian, and PaiPai. More companies that made significant online retail moves lately are Walmart that announced on an increased investment in the eCommerce site Yihaodian and Google which introduced DoubleClick Ad Exchange for Chinese businesses.