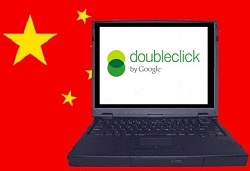 Despite that Google dominates pretty firmly over the online advertising industry, it still didn't managed to grab a significant hold in the largest population country on the planet, China. And in such volatile and competitive tech world, Google knows it needs to be much more established on the biggest market in the world.
So, in an effort to increase its advertising business and presence in China, Google has announced on post (in Chinese) in Google China official blog that the company is expanding the DoubleClick ad platform in China (which was already partially operating) with the ad marketplace product "Ad Exchange".
This addition of Ad Exchange suppose to offer advertisers and marketers an easy platform to buy display ads with a real-time bidding platform. In addition, the platform can help web publishers to feature ads on their websites to the highest ad-auction bidders, to maximize their ad revenue.
This step can turn out to be helpful not only for Chinese businesses- Many Chinese advertisers would probably also seek other languages advertising possibilities besides Chinese, which consequently would lead to an increase in ad profits for publishers. Sure, probably in much lower volumes than advertising in Chinese, but remember that it is "less" in Chinese proportions.
What is funny about this announcement, is that it isn't available for the Chinese audience! The Chinese government is blocking all blogs hosted on Blogger (ending with .blogspot) and Google China blog is such a blog (googlechinablog.blogspot.com). However, I am pretty sure that eventually the news will reach for Chinese eyes/ears as well.
For your convenience, here is an English-translated version of the blog post:
DoubleClick Ad Exchange: to create a win-win situation display advertising market

April 10, 2012 afternoon, 02:33:00
Director of Operations: Chen Ji, Greater China, the DoubleClick ad platform

Today, when browsing the web, users will often see the various forms of display ads, such as video, pictures and interactive advertising. Users are using search advertising and display ads to recommend products, services and other sorts of information that interest them. For advertisers, display advertising has a very important role in raising their brand awareness and product sales. For web publishers, display ads can generate revenue through their web contents in order to provide customers a high quality Internet service.

However, the complicated form of display ads and thousands of Web sites often make advertisers a headache, where planning and managing ads usually involved spending thousands of hours. This time overload can cause many advertisers to reduce or even to abandon display advertising.

On the other hand, some Web publishers often bothered that up to 80% of their advertising resources remains unsold, which is like a flight where most of the seats are empty. For direct sales of advertising resources, publishers also need to face the complex tasks of managing thousands of advertisers and a variety of marketing activities.

We believe that display advertising system based on new technologies can contribute to the display advertising market expansion tremendously, so all parties involved would benefit.

Our display advertising strategy is composed by three main principles:

Simplify your trading system. For example, DoubleClick ad service products can help advertisers to manage thousands of websites on a variety of campaigns, but can also help publishers manage the different forms of advertising from different advertisers.
Delivering measurable results for advertisers and agencies. We offer a free analysis of the campaign effectiveness and optimization tools, enabling them to display ads on the Google network better (including the thousands of AdSense partner sites), to purchase and run display ads, and understand the effectiveness level of display ads, so that in the future you could adjust your strategies and plans.
The open display advertising ecosystem. We hope to create an open display advertising system so that more advertisers and publishers can join.

We make constant efforts to achieve these three principles. Today, we are very excited to announce that DoubleClick Ad Exchange released in China, which is an important step to a more open display advertising ecosystem. Ad Exchange will show a real-time bidding advertising market that can help web publishers, ad networks and agencies, with more efficient and convenient way to display advertising transactions.

These web publishers, ad networks and agencies have a lot of advertising resources, and Ad Exchange advertisers are incorporated into an open market of the advertising resource real-time auctions, so you can make your advertising resources more efficient and reasonable to use. This will increase the ROI for advertisers, but also for web publishers to maximize their return on content through their websites.

We believe that promoting the expansion of the display advertising market will enable the parties income, including advertisers, publishers, and ultimately will benefit customers. DoubleClick Ad Exchange will create a more open market and its an important step to achieve the objectives from above.