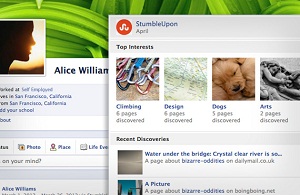 Facebook Timeline apps, which first introduced at the beginning of the year, turned to be a real success story for both third-party app creators that received a boost in exposure and reach and also for the social network itself that offered better social experience (leading to user engagement rise).
In the last few days, the popular social networking service StumbleUpon also presented a Facebook Timeline app, riding the wave of this secondary social layer apps industry. This will allow the social content discovery service revealing itself to a much wider audiences across Facebook.
The app isn't any different from what we got used to from other Timeline apps- It provides the possibility to consolidate all the user's activity on StumbleUpon in one place on the Timeline profile instead of the prior integration which posted the StumbleUpon activities one at a time "spread" across the Timeline.
The installation is very simple: Go to your StumbleUpon connected accounts setting page and connect your StumbleUpon account with your Facebook account (obviously grant StumbleUpon permission to access your information). Afterwards, check the "Add my activities to Facebook Timeline" box.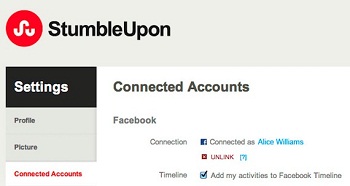 However, with a big conflict with StumbleUpon efforts to expand its activity on Facebook, currently the Timeline app isn't working with Firefox and Internet Explorer browsers which essentially holds 60% of the browser market combined! Therefore, for most users the app is blocked and in this point they would have to settle with the prior social networks integration.
Mike Mayzel, the Director of Communications at StumbleUpon, has told WebProNews that the company is intending (or hoping so at least) to make the Facebook Timeline app available for Firefox and IE users "shortly". The conflict is caused due to the incompatibility of the browsers with the StumbleBar (which is the Facebook-StumbleUpon "glue" of the app).
Another issue that Mayzel has disclosed (although for some reason relating to it positively) is that traffic from the StumbleUpon Timeline app will be attributed to both Facebook and StumbleUpon on site owners Analytics tools. Meaning that referral traffic from StumbleUpon Facebook Timeline app will be displayed as double as the real traffic coming from the social network.
In any case, it is interesting to see that other social networking services aren't seeing Facebook as a rival anymore and simply accept the fact they can't really compete with it. Instead, they are embracing and using it to boost their own social activity.
Frankly, when considering that Facebook predicted to cross the billion users milestone by 2013, who can really blame them?