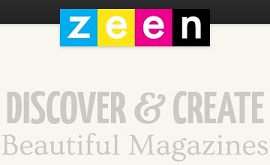 Ever since Chad Hurley and Steve Chen sold their little video project (you probably knows it as YouTube) for Google in exchange for $1.65 billion in stocks, they attracts a lot of attention as people are interested in their next "Golden Goose" product.
Until recently, the most significant moves by the founders was the acquisition of Delicious from Yahoo in April 2011 with their new company AVOS and relaunching it after a serious overhaul in September 2011 (so far without any major results).
But now, the folks have launched a teaser of their new mysterious project called Zeen. Currently there isn't so much information on the site, only that Zeen will allow users to "discover and create beautiful magazines", the possibility to reserve a username (zeen.com/username) and to connect it with your Facebook or Twitter account.
After the initial name registration step, the following message appears:
We're really excited to show you what we've been working on, and we'll send you an email when it's ready to go. In the meantime, we sent you an email to verify your email address. Please click on the link in the email so we know you're you! Bye till then!
The new site already has its own Facebook and Twitter accounts but besides a few posts and Tweets inviting users to reserve their username they don't offer more details about the product or any official launch date. By the way, if you didn't figured it out yet the name "Zeen" is probably taken from the word magazine.
Although the site isn't operational at the moment, it does has a privacy policy which can offer some additional pieces of information- It is clearly a social networking site of some sort as it states that users could add and share contents like links, images, videos, text, comment and more. It will also include a browser's bookmarklet extension (to share things to the service).
My personal guess is that Zeen would be a social networking service like Pinterest but maybe also more focused on textual contents besides visual. Pinterest already proved that there is much room for niche social networks that connects to the traditional major social networks (Twitter, Facebook), so the potential is huge.
Zeen already received a giant buzz, now it needs to deliver.