AVOS, a company started by the two YouTube founders Chad Hurley and Steve Chen, has just announced on the launch of the new Delicious. Does the ambitious new company would manage to bring back social bookmarking sites to the front again by branding it as a vital online service?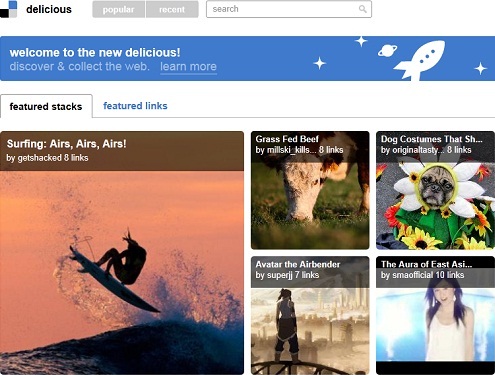 AVOS has acquired (some may say rescued) Delicious from Yahoo in April this year and after few months of waiting, while many rumors and speculations about new concept and approach flooded the web, the new Delicious is finally here. So… What indeed has changed?
Stacks
This feature intended to be in the front of the new social bookmarking concept- Instead of bookmarking single pages, the users can now create bunch of related links/videos/photos stacked together and share it. This approach suppose to organize the web for better content discovery.
The Homepage
The new homepage is much richer with visual content- The most recent featured Stacks appears and you can continue to browse them potentially without a limit when clicking on a "View More" button at the bottom.
Multi Word Tagging
Instead of tagging links with just one word, now the users can tag also phrases more than one word.
Media Fetch
When bookmarking a link it also fetch a media preview of it.
"Bookmarks" To "Links"
The word "links" replaced the word "bookmarks", but they still the have the same meaning.
Previously Bookmarks/Links Saved
The ones of you who already used Delicious would be happy to hear that all previous bookmarked links remained saved.
Conclusion
The whole new approach and interface definitely look promising and we'll keep examining how people will react to it and how to use it as part of the work at home marketing efforts.
Meantime, you can watch this video about the new Delicious and the new Stacks feature: