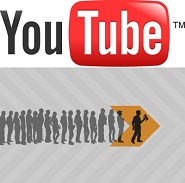 The digital age has brought new kind of popular writers and content creators which in many cases directing the general public state of mind, the bloggers. As the internet evolved and technology developed, another type of content creators have come to the world, vloggers (video bloggers).
Almost all of the popular vloggers of today resides on YouTube. Many of them like Ray William Johnson and Ryan Higa has more than five million subscribers and 1-2 billion (yes, billion!) video views. This is absolutely crazy. I don't even know how to calculate their income (oh yes, they are all monetizing their success).
The funny thing is that everyone can do it. That is, only if you can handle yourself well in front of a camera of course.
The other beneficiary from the meteoric rise of these vloggers is obviously YouTube itself (or Google which owns YouTube). Not only it receives parts of the vlogger's profits (about third) but it also helps the video site to gain more popularity and exposure (which is already amazingly high).
YouTube recognizing the importance of those star vloggers and now it is introducing a new program to find the next YouTube star vlogger. YouTube are stating that 16 chosen vloggers will participate in the three months program that will take place through Google+ "educational workshops" Hangouts.
Each vlogger from the 16 selected to the program will also receive $10,000 worth for display advertising for his/hers Channel and $5,000 worth of video production equipment. In addition, the participating will receive guidance and mentoring from existing vlogging stars like Justine Ezarik which operates the successful channel iJustine.
Once accepted, the vlogger needs to participate in six scheduled Hangouts (each Hangout available in two different time slots) between June 5th to August 15th, and to upload six video assignments at dates specified by the program.
The program eligibility requirements:
Be a legal resident of Australia, Canada (excluding residents of Quebec), India, Ireland, New Zealand, South Africa, the U.K. or the U.S.
More than 18 years of age at the time of registration.
Own a Google+ account and a YouTube channel that enables monetization over at least 75% of all videos.
Have at least 5,000 channel subscribers and/or at least one million video views as for March 21st.
Applications to the program are available until April 18th. To apply for YouTube Next Vlogger program, just fill out the form here!