Google wants to show people that the new privacy policy was actually a good idea. It wants to prove to people that they shouldn't be scared and feel it is an invasion to their privacy. That integrating the user information across all the company's products would really just help them.
And so, Google has announced on launching a new feature called Account Activity which suppose to offer the users insights about their usage of the company's products and services (while they were signed-in of course) in one detailed periodical report.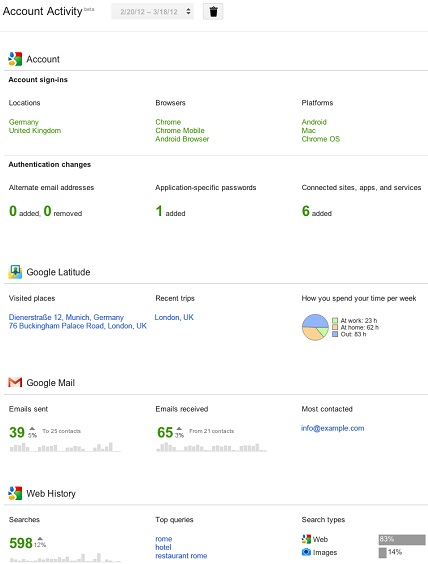 The Account Activity report will be sent to users (which signed up for it) every month and designated to offer information and statistics about the user's activity across Google's different products and the how his/hers activity has changed on a month-to-month basis.
For example, the report will include how many emails the user sent and received (with Gmail) during the previous month and how it had changed from the month before. Additionally, the report will elaborate the user's web search stats- How many searches been conducted, what are the most searched queries made and what search types were they (web, image, video, news).
Another thing that can be found on the Account Activity report are the specifications of the user's geographic location, the browser and the platform used when he/she used the company's products. This can turn out to be pretty useful from account safety perspective- Noticing surfing from different country, browser or platform can indicate that the account has been compromised.
The Account Activity reporting feature is only possible thanks to the consolidated controversial new privacy policy, which essentially allowing Google to gather and to use all the user information from all of the company's different products. I'm not sure if that is what will calm down the concerns, in fact I'm a little more stressed after reading this from the Account Activity sign up page:
"Data deletion at the data source, e.g. in your web history will have no impact on issued reports." – Meaning, that even after deleting your web history, the information is still out there and in use.
In any case, note that after signing up for the service the report might be ready only a few days after.