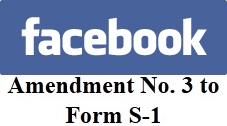 While Facebook preparing for one of the biggest public offering in history, it keeps updating its IPO paperwork so it will reflect the company in the most transparent way as possible, synchronized with the social network most relevant and recent events.
On the beginning of the month, Facebook filed its amendment No. 2 which included some prominent changes to the social network's users, risk factors and revenue. Yesterday, the company filed its amendment No. 3 to form S-1 which includes few more updates:
Yahoo Lawsuit
The biggest update from this new S-1 form is probably the addition of Yahoo (BS) lawsuit against the company. Facebook are stating that although they have yet to react to this lawsuit, the company intends "to vigorously defend" against these claims.
Facebook emphasizes that this case is still in early stage and its outcome is unpredictable. The case eventual results could turn out to be acute to the business if Facebook would lose the lawsuit. From the new S-1 form:
"This litigation is still in its early stages and the final outcome, including our liability, if any, with respect to these claims, is uncertain. If an unfavorable outcome were to occur in this litigation, the impact could be material to our business, financial condition, or results of operations."
Paul Ceglia Case Motion To Dismiss
Facebook also added an update on another legal problem the company is involved. The company has stated that it filed a motion to dismiss the case of Paul Ceglia against the company, in which he claims ownership on half of the social network due to alleged early agreement with Mark Zuckerberg. From the updated form:
"we filed a motion to dismiss Mr. Ceglia's complaint and a motion for judgment on the pleadings. We continue to believe that Mr. Ceglia is attempting to perpetrate a fraud on the court and we intend to continue to defend the case vigorously."
Users Engagement
Another very interesting addition is the disclosure of the social network's users level of engagement. The company is saying that its users spends on average 10.5 billion minutes on the site every month from personal computers, which reflects a 14% rise on average minutes per user compared to January 2011.
A quick calculation with Facebook's total number of users disclosed (845 million) reveals that the average user is spending about 12.43 minutes every day and about 370 minutes every month on the social network. These numbers are slightly lower than a prior comScore study that measured 405 average monthly minutes per user.
"On average, users in the aggregate spent more than 10.5 billion minutes per day on Facebook on personal computers during January 2012. Aggregate minutes per day increased 57% and average minutes per user per day increased 14% during January 2012 as compared to January 2011."
Besides those updates, there were few more smaller tweaks with much lesser significance. If you've found more prominent changes in the new S-1 form, you are welcome to comment!